Shopping Cart
Your Cart is Empty
There was an error with PayPal
Click here to try again
Thank you for your business!
You should be receiving an order confirmation from Paypal shortly.
Exit Shopping Cart
Bun la toate si la nimic - "Good at everything and at nothing"
Please visit www.busybutternut.com for my new site!
| | |
| --- | --- |
| Posted on September 24, 2014 at 12:40 PM | |
It's a brownie, it's a cookie, it's a girl scout cookie dupe

(GLUTEN FREE!)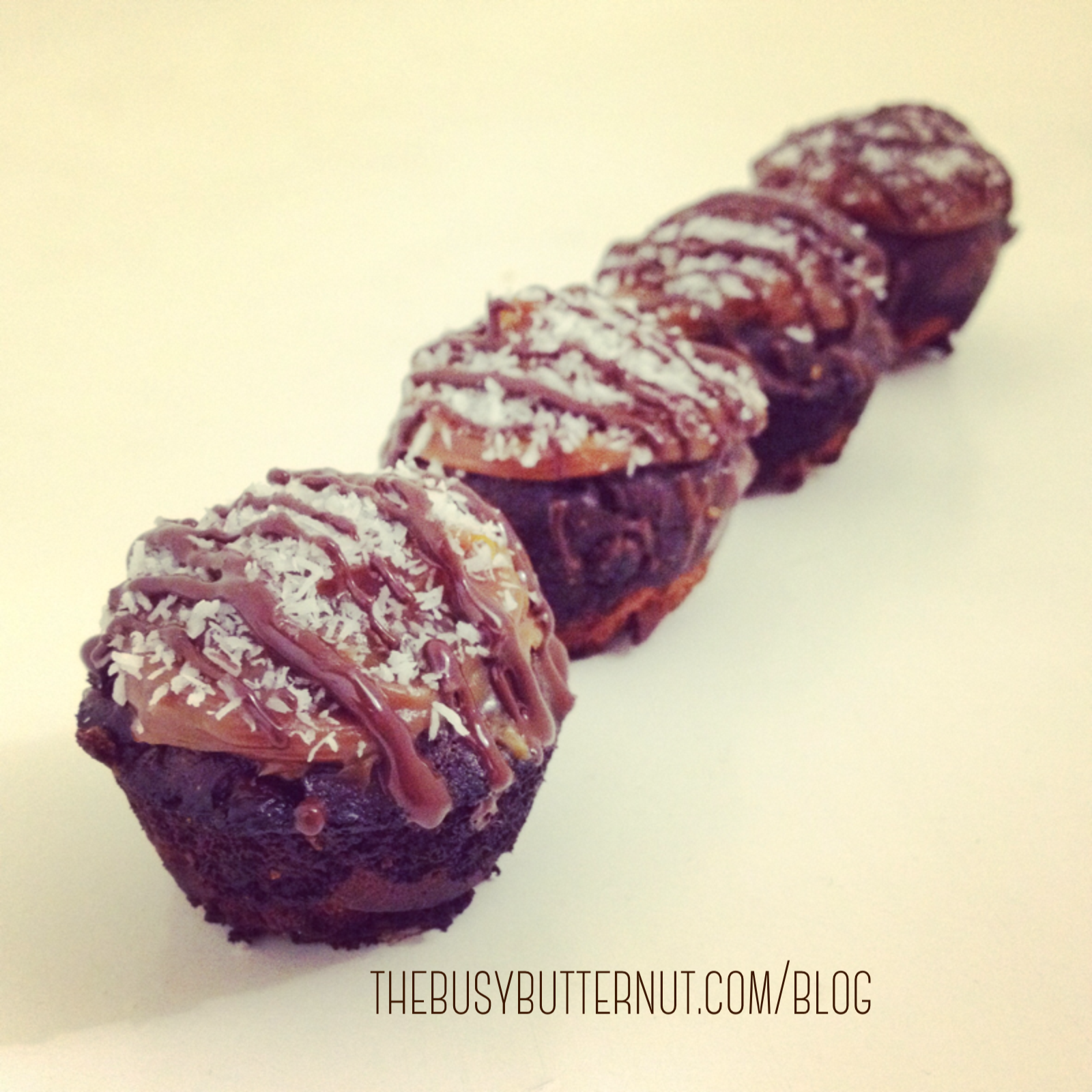 It's currently not girl scout cookie season but I am craving a samoa.  It's that caramel-y coconut-y goodness.  A coworker of mine is also gluten free and thus was born... the coconut caramel brownie cookie.  Also known as the "samoa brownie bite."
I picked up 5 ingredients at my local Whole Foods but any brands will work out just great.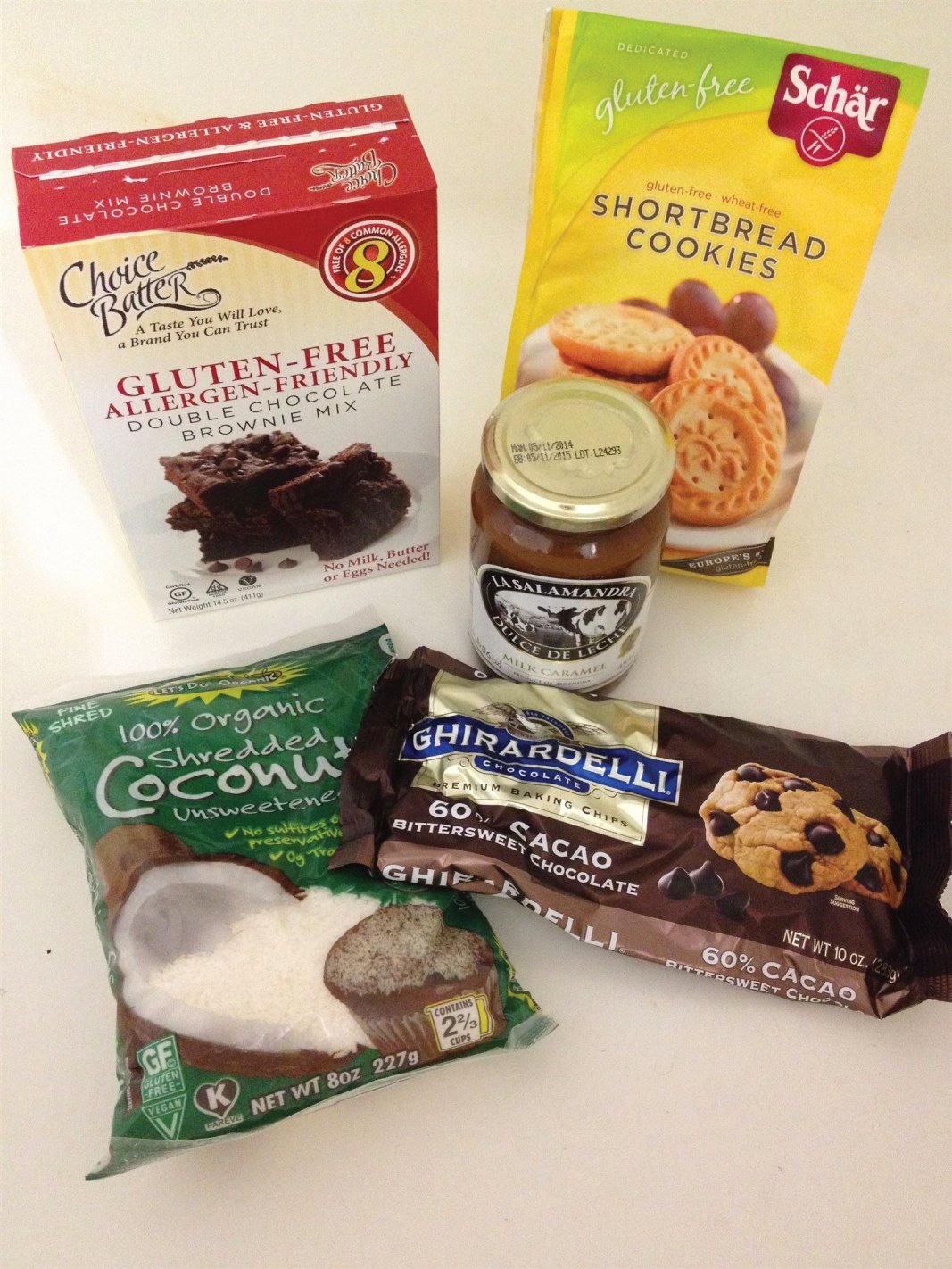 Ingredients:
  - Box of GF Brownie Mix
  - Any GF sugar or plain cookies
  - Jar of Caramel Sauce or a handful of 

    caramel candies
  - Shredded Coconut (they only had  

    unsweetened but sweetened would

    be delish too) 
  - Some chocolate chips for melting
(The brownie recipe does call for vegetable oil and I used pam baking spray so make sure you have those on hand too!  Or eggs if your brownie mix needs those but this particular one did not.)
Preheat your oven to 350.  In a large bowl, mix together brownie box according to the package instructions.  I added a handful of coconut to the mix to give it a little extra flavor.  
Give your mini muffin tins a quick non stick spray because seriously, washing out each of those little crevices is a big pain-ola. Crunch up your sugar cookies and fill the bottom of each tin with cookie bits.  Poor over your brownie mix and bake away!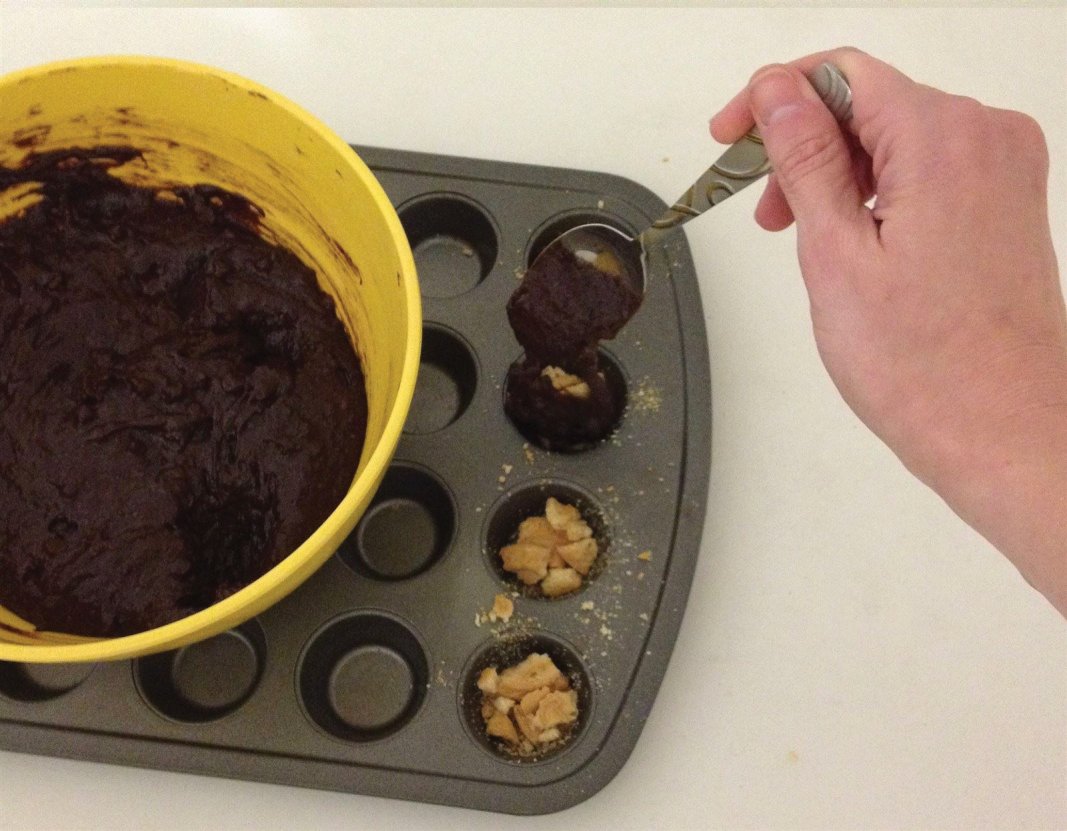 The brownie box calls for 25 - 30 minutes of baking at 350 and woah no!  Not with these little goobers of delight. They'll only take about 8-10. Once you pull them out, very important to let them cool!!  If you poor your caramel sauce over while it's hot, it will just melt all over the place and slip right off.  You want the caramel to be cold, brownies to be cold and then frost them with the caramel like you would a cupcake.  It should be a nice, thick layer of caramel frosting goodness. 
Sprinkle on a good handful of coconut and get your chocolate chips microwaving. You'll only need about a quarter cup of chips. If you're never melted chocolate in a microwave, it's a slow process, be patient.  Do not nuke it for a long time!  Start with 20 seconds at a time, stir, back in, 20 sec, stir, back in, 20 sec.  Once it's a beautiful melted smooth consistency, drizzle over each brownie bite for that signature samoa look.  They're ready to eat!
This method / recipe would also work for our non GFers.  Just grab a box of full gluten brownie mix and full gluten cookies.  :)

Categories: Baking
/