Shopping Cart
Your Cart is Empty
There was an error with PayPal
Click here to try again
Thank you for your business!
You should be receiving an order confirmation from Paypal shortly.
Exit Shopping Cart
Bun la toate si la nimic - "Good at everything and at nothing"
Please visit www.busybutternut.com for my new site!
Floral Pump Rehab!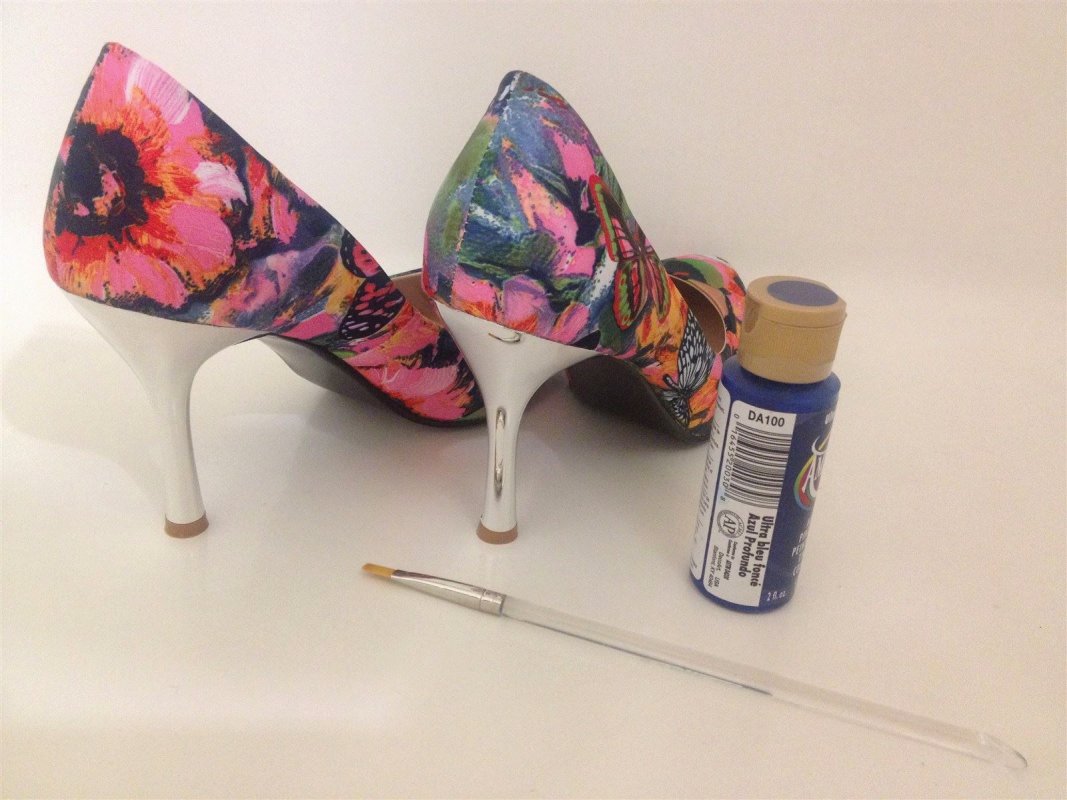 I love the new floral trends this season from blazers to pants to pumps and had to jump on the wagon.  All of the gorgeous shoes I've found though have been wildly expensive and I like to save my big purchases for those classic, never out of style pieces.  Amazon to the rescue. 
These stunners
came in at twenty six buckeroos.  But.... eh... in person they definitely do look on the cheaper side with the metallic plastic and rubber stoppers.
This refashion took 10 minutes and 2 coats of $4.00 paint!  Allow one coat to dry for a few minutes, finish with a spritz of hairspray to seal.  I have to admit, it actually worked out and they will be on full rotation this summer!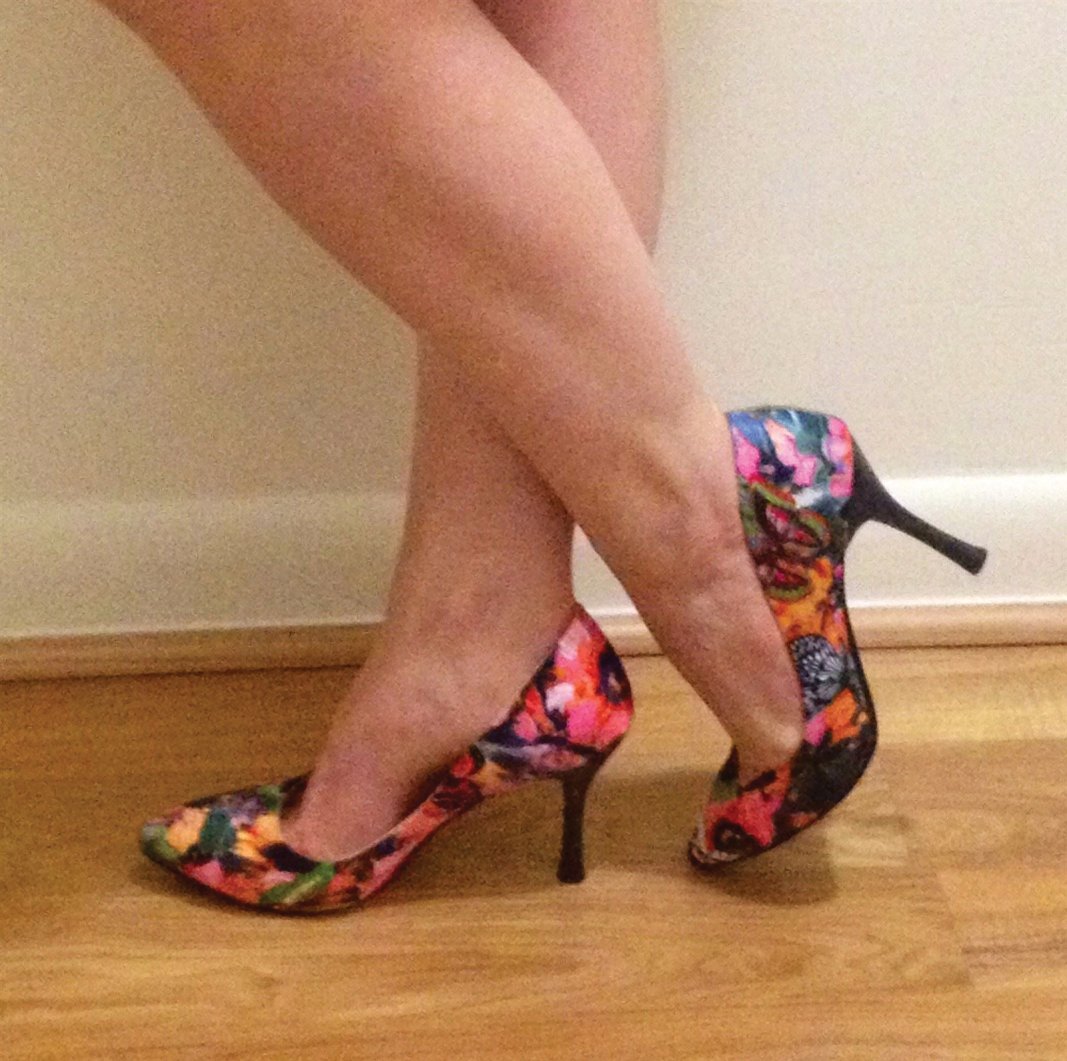 Materials used:
- 1 squeeze of charcoal colored acrylic paint (top pic had navy blue but it was too watery when I started painting.  Need a thick paint!)
- Small brush
- Top coat if you have it on hand, or just aerosol hairspray.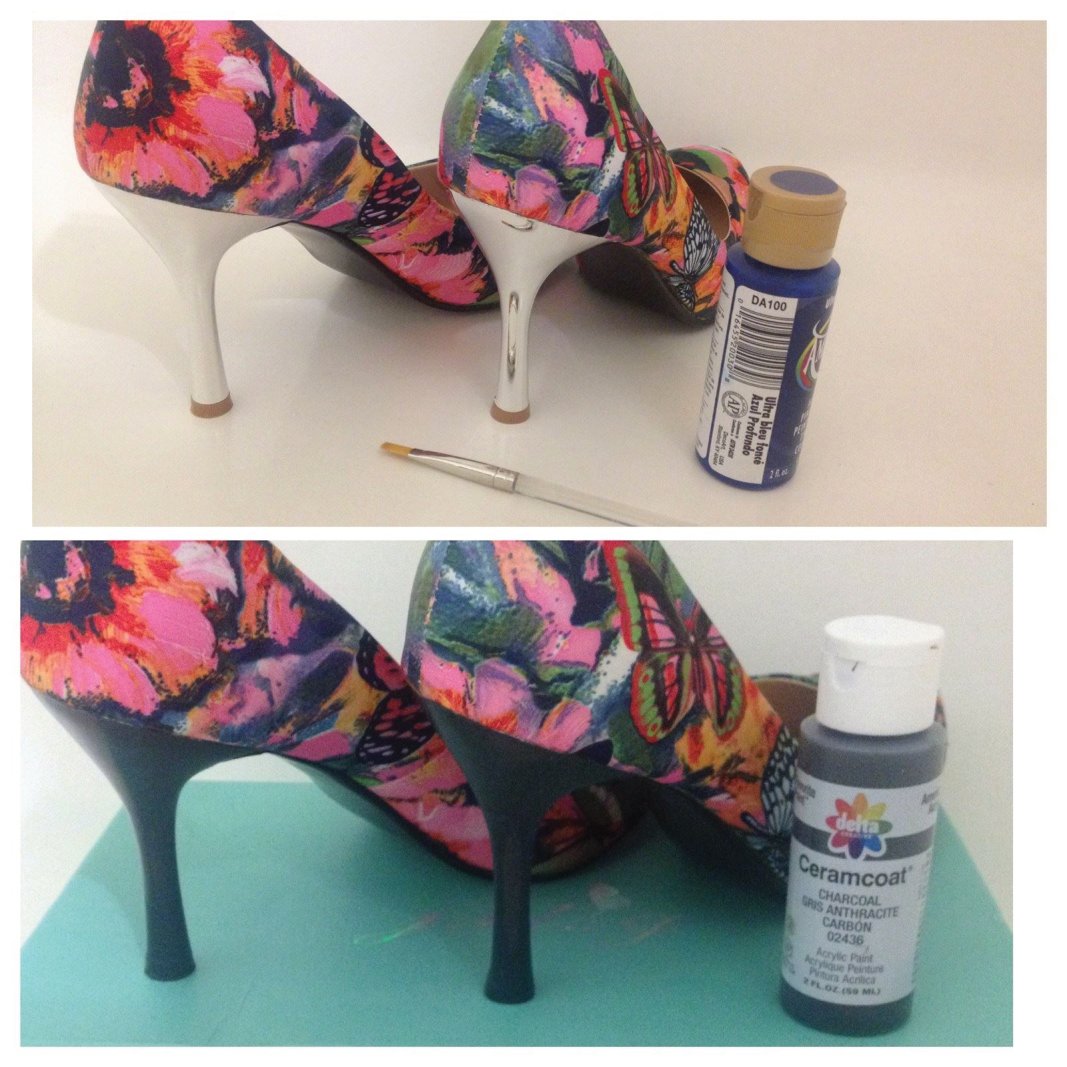 50's Style Bird Skirt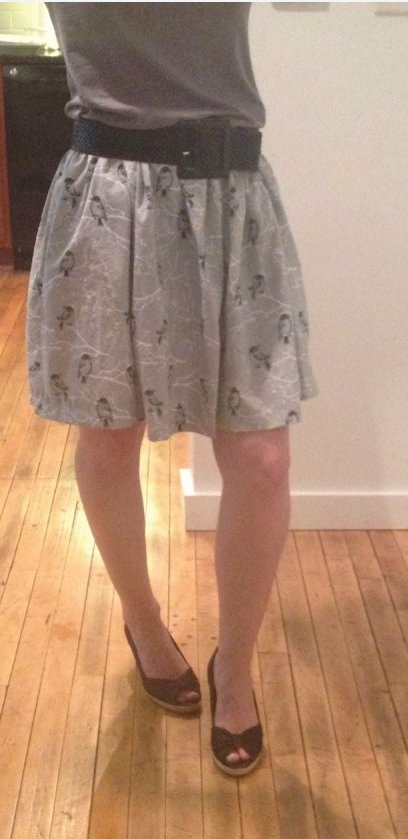 I am recovering a set of chairs that I've had stashed at my parents house for about 10 years (pics to come soon) and while I was at Joann's picking up for that project, found this uber adorable bird pattern fabric.  I knew it had to be a skirt!  I love the 50's style big, high wasted, longer pleated look and attempted it here.  Did I manage to do it correctly?  Eh, but I think it turned out pretty cute. 

Materials were very simple: 2 inch wide black elastic and my fabric (2 yards)!  Black and white thread and you're done.  I didn't use a pattern and made literally 2 sewing lines.  I washed, dried and ironed first, big important step I've missed in the past in my discovery of clothes sewing.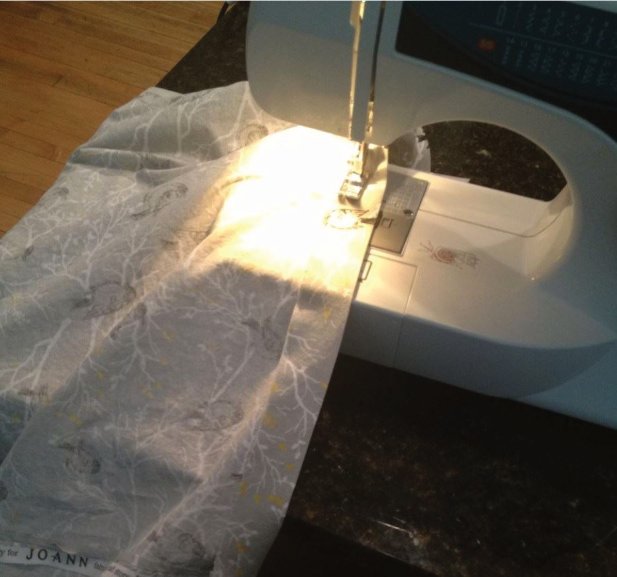 Started by laying out the long piece of fabric on my kitchen counter and ironed a hem 2 inches in width on the top and bottom.  I hemmed first on the bottom, inside out of course in white thread. 
Then I sewed the fabric with black thread onto the elastic and made super small folds every half inch to create the pleat look.  Once all the fabric was on, I sewed my elastic ends together and wa-la!  Skirt! 

Now... if it was only that easy.  I forgot that my waste (where I measured the elastic around) is definitely not the size of my hips!  And when I put the skirt on over my hips, riiiiiiiiiip!  Whoops.  I don't know why I didn't realize that of course the thread was not going to stretch with the elastic.  I believe there is stretchy thread out there, haven't ventured into that area yet, but alas, I had to sew in a zipper.  
It did end up being 4 sewing lines in the end.  1. Hem, 2. fabric onto elastic and 3.4. each side of the zipper for this super simple 50's attempt at a skirt.  :)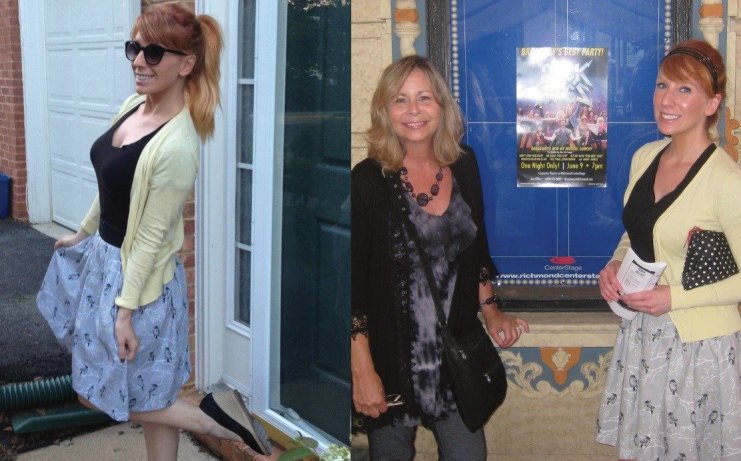 Worn twice already!  Once to work and once to Rock of Ages with my sweeties mom.  
Death to all but Metal?  I never thought I'd be blogging about that!  \m/
I never thought my form would be wearing a death metal punk vest either but here she is!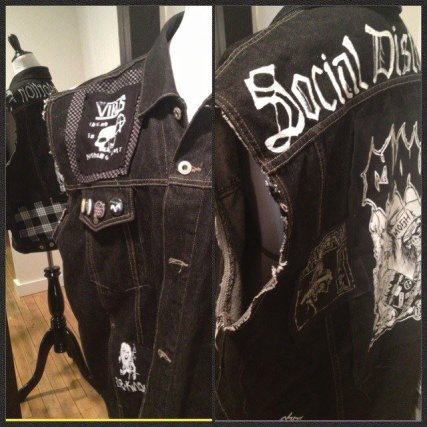 When a friend needed a few patches sewn on their cut off jean jacket for a concert, I couldn't say no!    I always love a project and this one brought out my inner badass.  :)

He provided the jacket and the patches, I went to work googling punk jackets.  They're actually amazingly unique and interesting and I wanted to make his just as cool.  I might have added my own fabric pieces (left over from "Aden's" baby sign) and hand painted Social Distortion across the back, which he mentioned was his favorite band. 

Here are some pics along the way!
First Attempt Bubble Skirt!
I found this amaze fabric on Spoonflower that I fell in love with and knew I had to make something wearable with it.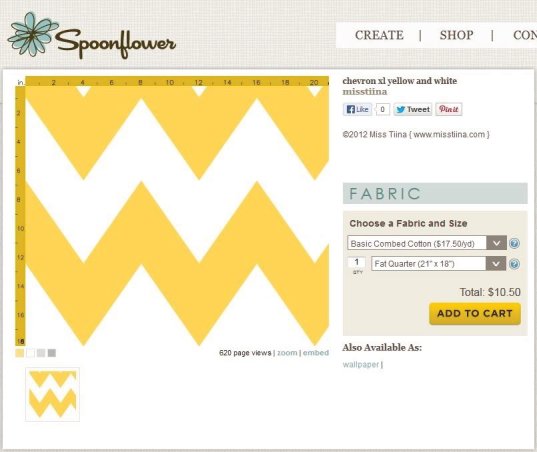 It was honestly one of the easiest things I've tried to make with just 3 stitching lines on the machine, however, the process of pulling the elastic through took a looooooong time.  I also highly, highly recommend washing, drying and ironing your fabric beforehand as well. 

As someone in my 30's, this skirt isn't super appropriate and I felt a little awkward but I might make a few for my nieces.  :)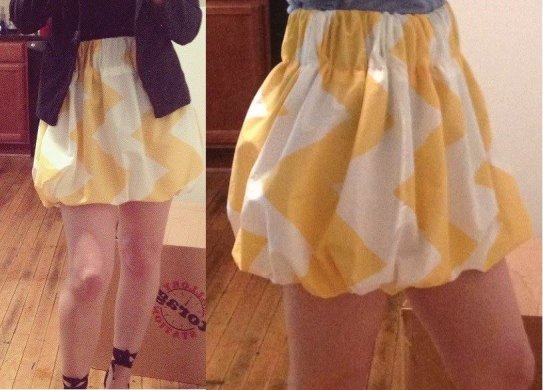 Game of Thrones Apron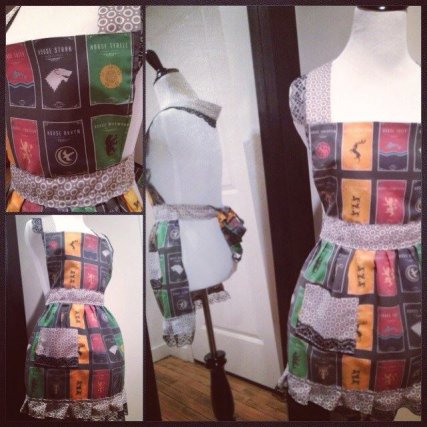 After a great Thursday night with Dress for Success, I caught the sewing bug. With a few hours to spare on Saturday night, I threw together this frock.
I hate to admit it, but I've never seen an episode.  My coworkers, on the  other hand,  are  slightly obsessed.  With that show though, I think obsession is the  general consensus. One coworker in particular just started cooking so I surprised her Monday morning!  The reaction was priceless.

Dress for Success Central Virginia's:
  "What Haute to Wear"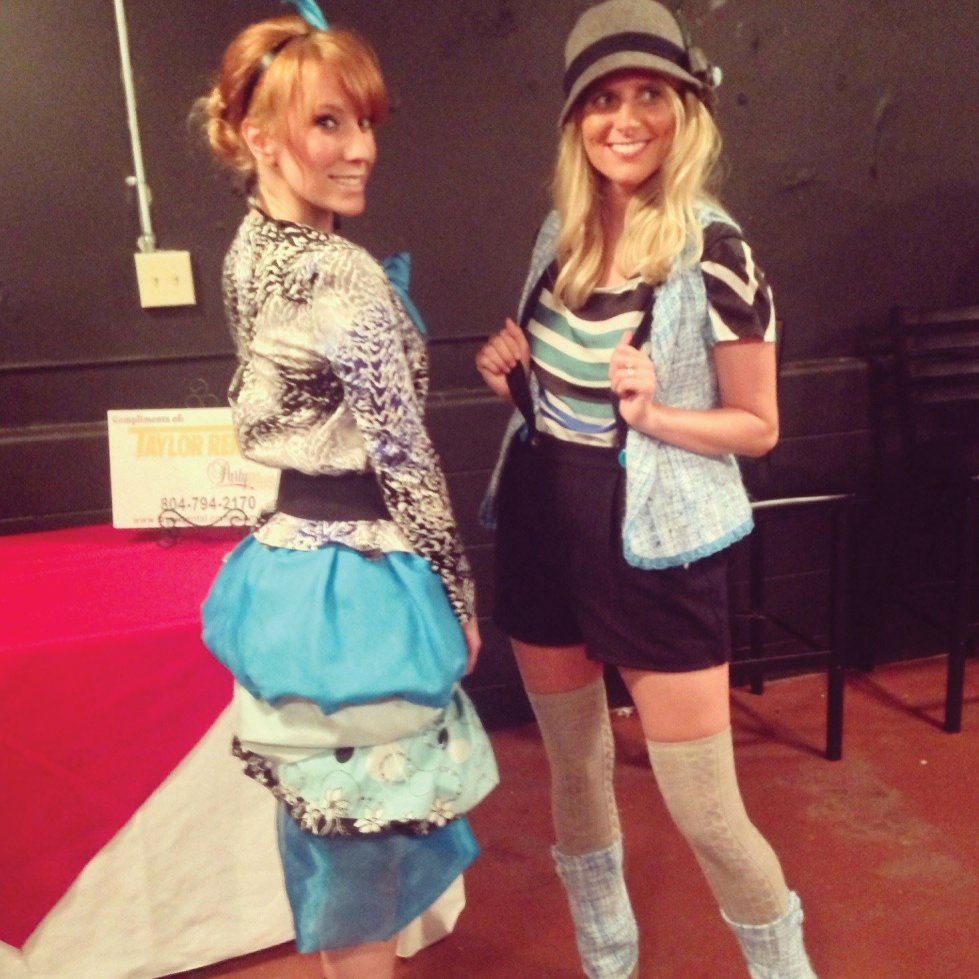 I was  so fortunate to participate in a great evening of charity fashion redesign.  Dress for Success is an organization that provides career attire and development tools to women  in  Central Virginia (all throughout the US too!).  It is all through donation but some of those donations are, well, not very wearable.  Especially the lovely hot  turquoise bedazzled skirt I found in my mystery bag.  Unless they're interviewing for the ice capades, that one might not be appropriate.

So what to do with all those unwearables but great donations?  They hosted an evening of fashion runway redesign!  Local area designers were given a mystery bag of clothes and had free reign to overhaul those into runway worthy looks. 
We strut the runway and won amazing prizes from local clothing, jewelry, and resale shops!  I had a great time refashioning and helping raise money for a great cause.
/