Shopping Cart
Your Cart is Empty
There was an error with PayPal
Click here to try again
Thank you for your business!
You should be receiving an order confirmation from Paypal shortly.
Exit Shopping Cart
Bun la toate si la nimic - "Good at everything and at nothing"
Please visit www.busybutternut.com for my new site!
Sprinkle Cake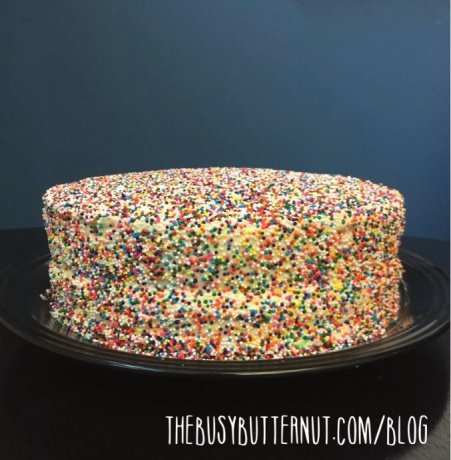 This cake has huge impact for minimal effort and price! 
All you need is:
- Favorite boxed cake mix (this one is Duncan Hines Lemon Supreme)
 + any recipe ingredients ie: eggs

- 2 cans of frosting (inside is lemon, outside is cream cheese)
- Lots of sprinkles!! 
Any candy and lots of it to cover the entire cake would work and be really cute.  Think all pink or blue sprinkles for a baby shower, all white or silver for a wedding shower, any holiday, any size or shape of sprinkle!
Follow all boxed cake instructions, ensuring your cakes are COMPLETELY cooled.  You want everything nice and cool so it's firm enough that the frosting and sprinkles don't slip and slide.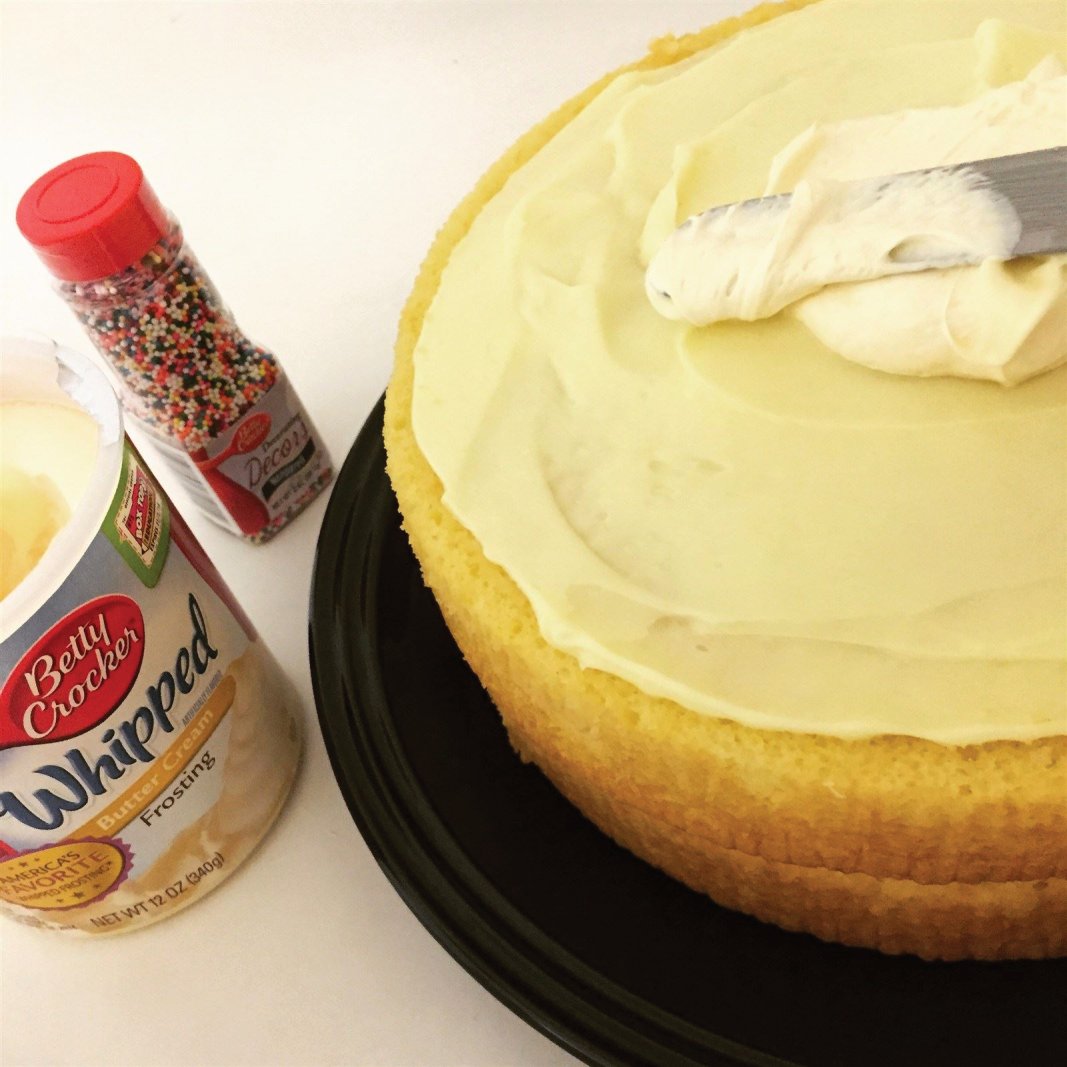 I used about 2/3 of my lemon jar in between the cakes and entire jar of the cream cheese to frost the whole cake.  Tools like an
offset spatula
make frosting cakes much easier!
Once you're frosted, go to town on sprinkling.  I would HIGHLY, HIGHLY recommend doing this step with your cake in the sink, on a plate of course.  I started with my cake just on the counter and my counter, floors, feet, hands, everything was covered in sprinkles.  If you pop it in the sink, they're contained and easily wash down the drain. 

Make sure to press lightly to pack the sprinkles into the frosting so they don't fall off too easily.  Pop the whole thing in the fridge to set it all together for at least an hour or so and you're all set! 

The possibilities are endless! 

Sausage Pinwheels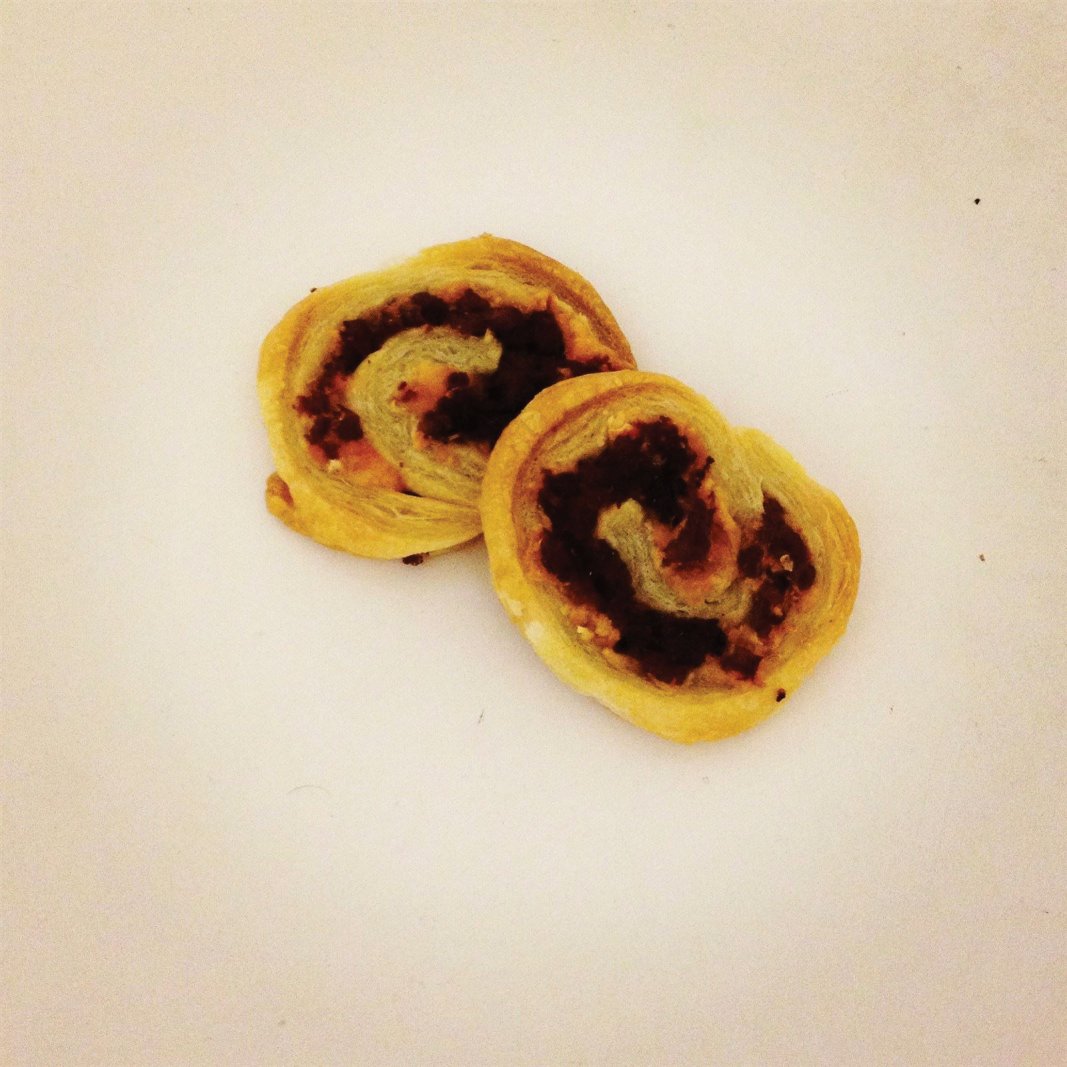 My little sister recently texted me "I have a brunch baby shower potluck, need a dish, go!" I always love when I get asked those questions about what should I bring here, or what should I wear here.  I think it might actually be my dream job.  I want to start an online chat site where someone can ask any random question about food, lifestyle, decor, fashion, whatever it may be.  The Dear Abby of "Help, I have a food or fashion emergency." 

So these sausage pinwheels were my, oh my goodness, it's the easiest and cheapest thing but it makes a ton and everyone will love them response. 

You can do this technique/recipe with sweet or savory, breakfast or dinner, Thanksgiving or 4th of July.  Frozen puff pastry is wonderful.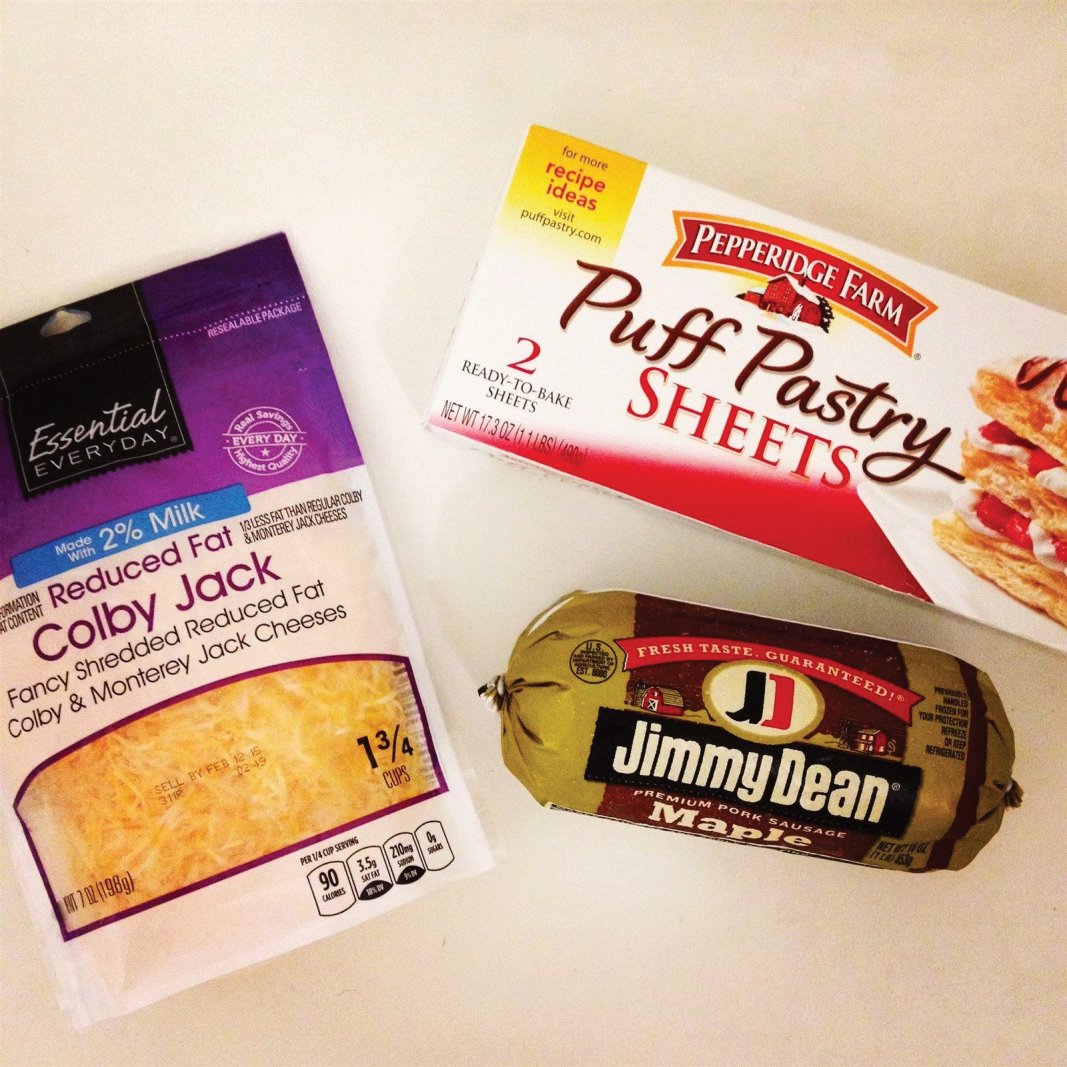 Ingredients:
- Frozen puff pastry (thawed)

- Ground sausage
- Cheese
(other alternatives for fillings)
- deli ham and sliced cheese for cordon bleu's
- apricot jam and pistachios
- goat cheese and roasted red peppers
- chocolate chips and sliced strawberries
The possibilities are endless!!
For the sausage pinwheels, start by browning off your sausage in a skillet and draining all of the fat.  It's important to get a lot of the fat out or it will make your pastry soggy.  I laid out a bunch of paper towels on a baking sheet and after draining the skillet, laid all my cooked sausage on the paper towels to really dry it out.  Let the sausage cool!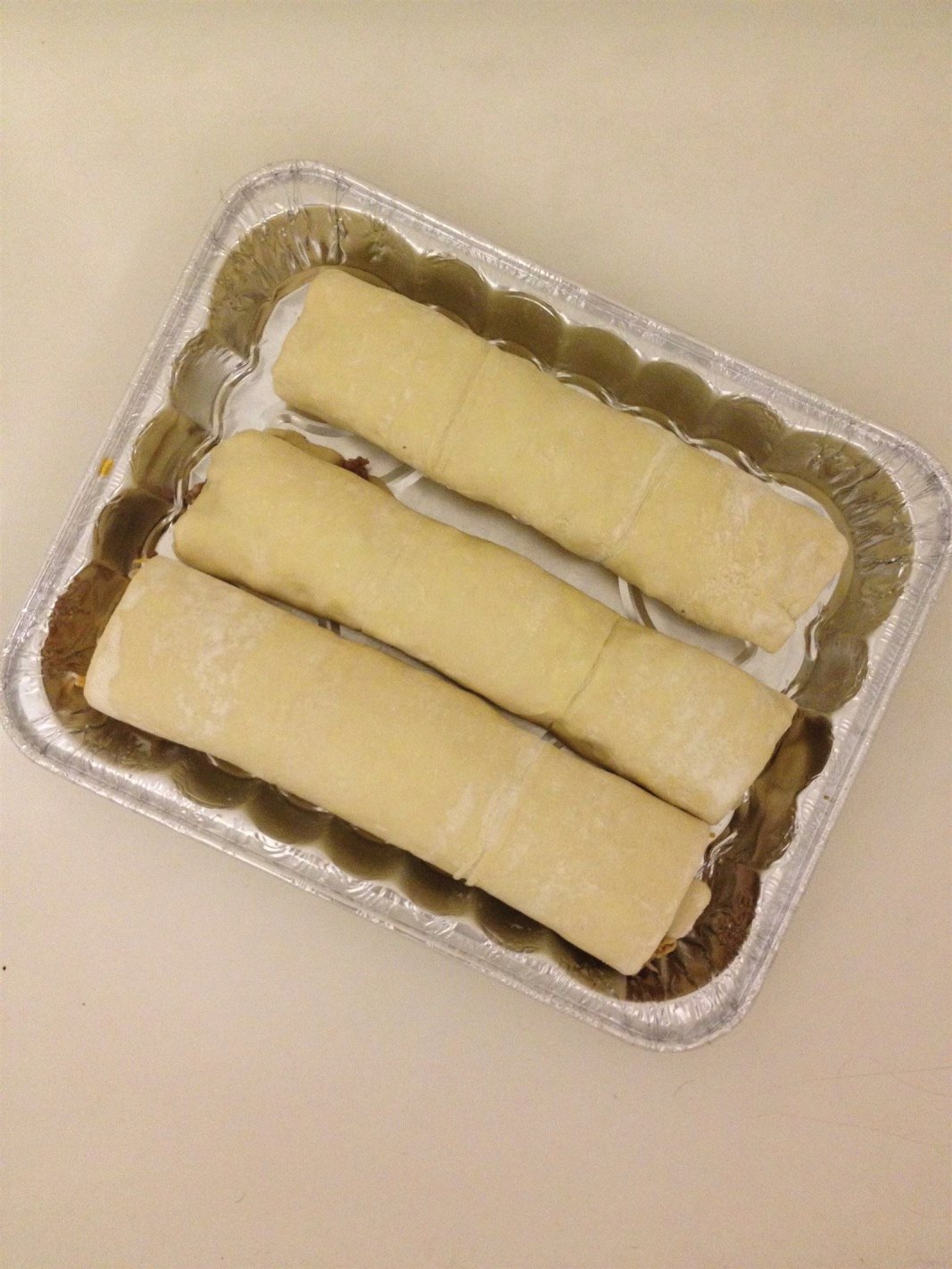 Unfold your thawed (it will break if it's frozen!) puff pastry and ensure there are no cracks or tears.  You can roll it out thinner if you'd like.  Then just sprinkle your toppings over the entire sheet. 
Start rolling!  This requires a little bit of finesse so all your insides don't fall out.  Once you're rolled up, leave the roll SEAM SIDE DOWN on a plate or baking sheet and pop them into the freezer for at least 30 minutes.  This step is crucial.  If you try to slice the pastry while it's warm or sticky, you'll have a mess.  You want it nice and firm to slice through with a serrated knife.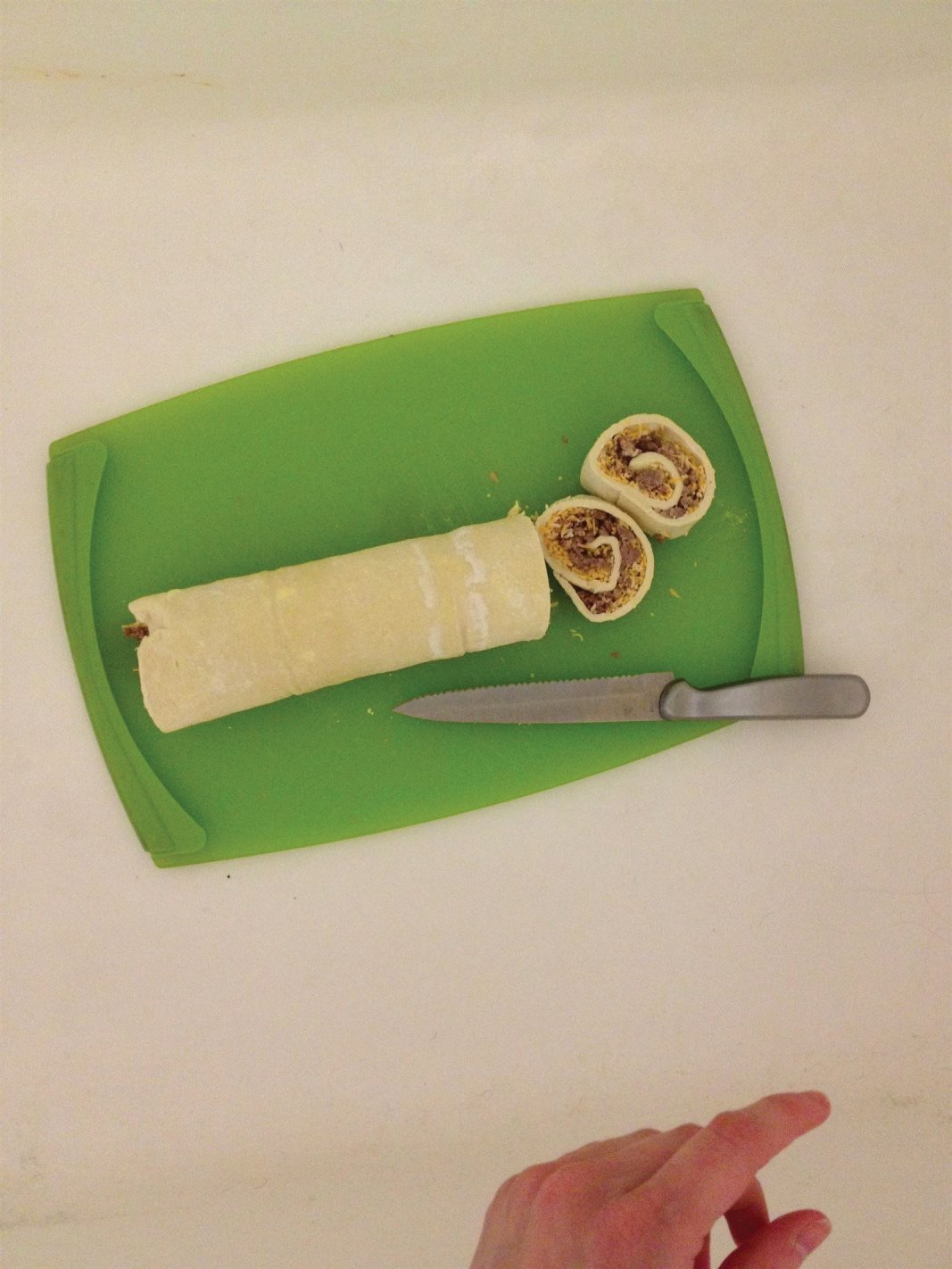 Preheat the oven to 400 degrees.

You can cut them as thin or as thick as you would like but about a half inch works well.  Lay them out on a baking sheet and bake until they are golden brown and delicious.  It took mine about 15-20 minutes. 

The are best served warm! 

Make a dipping sauce of sour cream mixed with syrup (sounds weird, tastes delicious) to serve on the side if you'd like.

Great for kids, switch it up for every occasion, three ingredients, inexpensive and easy!

Pumpkin Spice Madelines
With acronyms like PSL (pumpkin spice latte) running rampant these fall days, I decided to make a little something to dip into your favorite warm beverage.  I love traditional lemon and almond madelines, why not try a fall twist!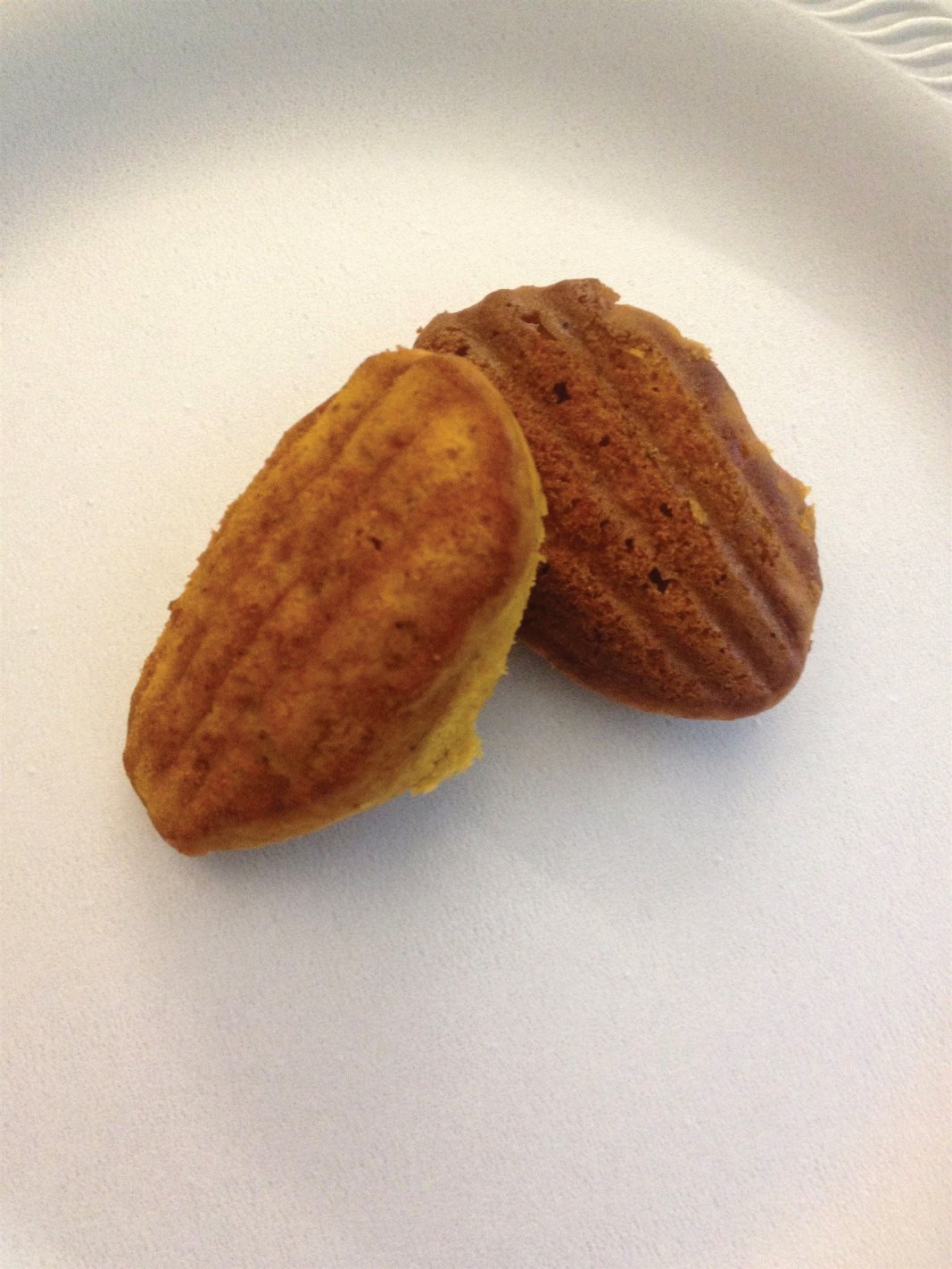 I thought I was being so clever until I googled pumpkin madelines and well, many someone's are also very clever. Hopefully this recipe though, is super fast, super basic and only puts you 20 minutes and about $7 away from deliciousness.
The first thing you'll need is a
madeline pan
to give them the distinct shell pattern. However, this can be done as a large cake, cupcakes, mini cupcakes, any size or shape you have.
This would have been a three ingredient recipe had my local grocery store been carrying spice cake but alas, it became a yellow butter cake with a few spices I had in my pantry.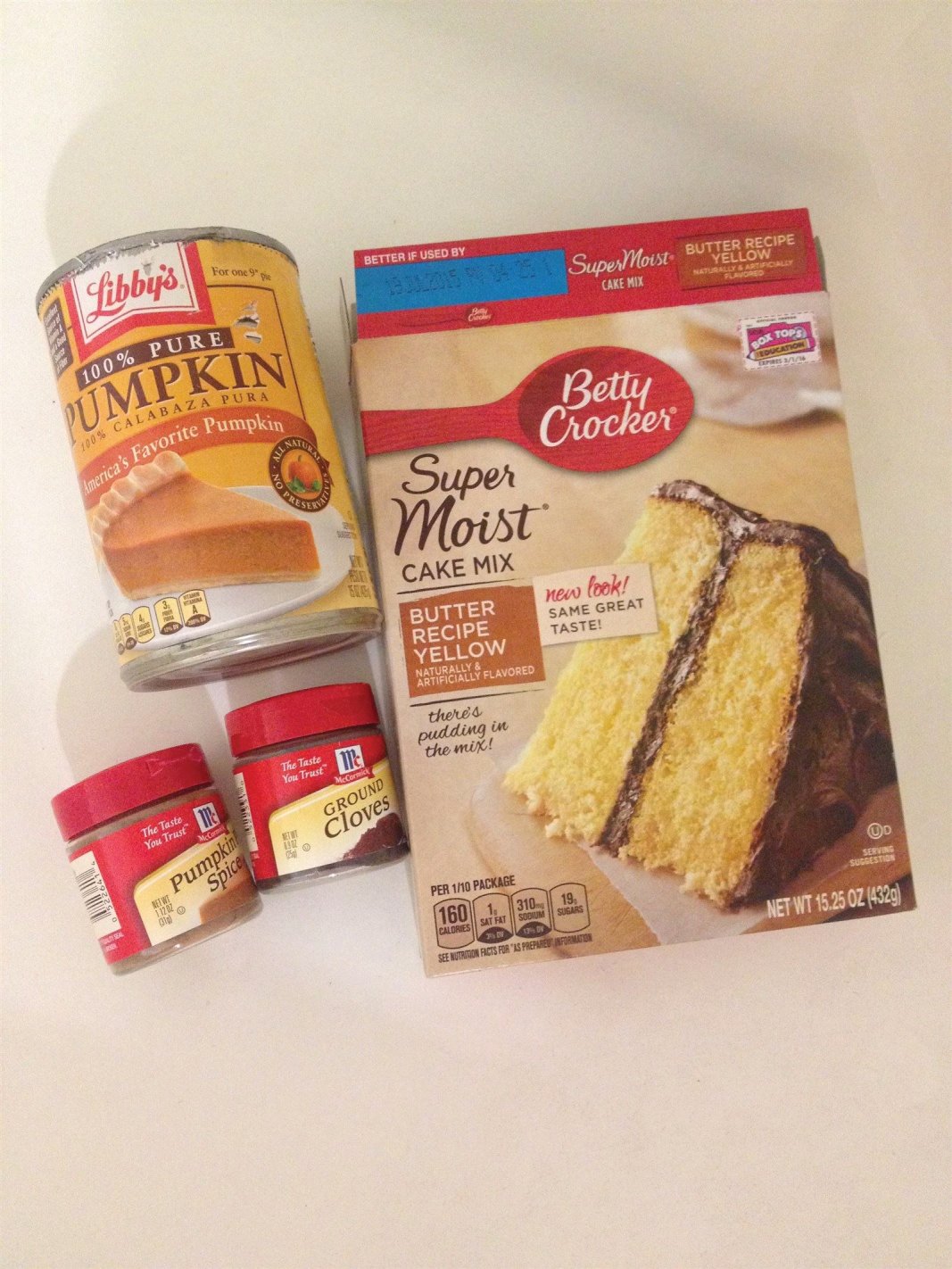 Ingredients:
- Boxed Cake Mix (Spice Cake would

  be perfect and you wouldn't have to

  use additional spices!)

- Can of pumpkin puree
- 1 egg (that's it!! Don't follow the recipe

   on the back of the cake or it will be

   too wet.)
If you do use the yellow cake mix, I added about 10 shakes of cloves and about 15 shakes of pumpkin pie spice. This is completely your taste but for me, you can't add enough pumpkin pie spice mix.

Make sure to preheat your oven to 350 and then one small scoop in each madeline shell is all you'll need.  Baking time is around 8-10 minutes because these little cuties are so small.
That's it!  They're not overly sweet and I think that's what I enjoyed most about them.  They were almost like a muffin and muffins are healthy right?

:)  Enjoy!

It's a brownie, it's a cookie, it's a girl scout cookie dupe

(GLUTEN FREE!)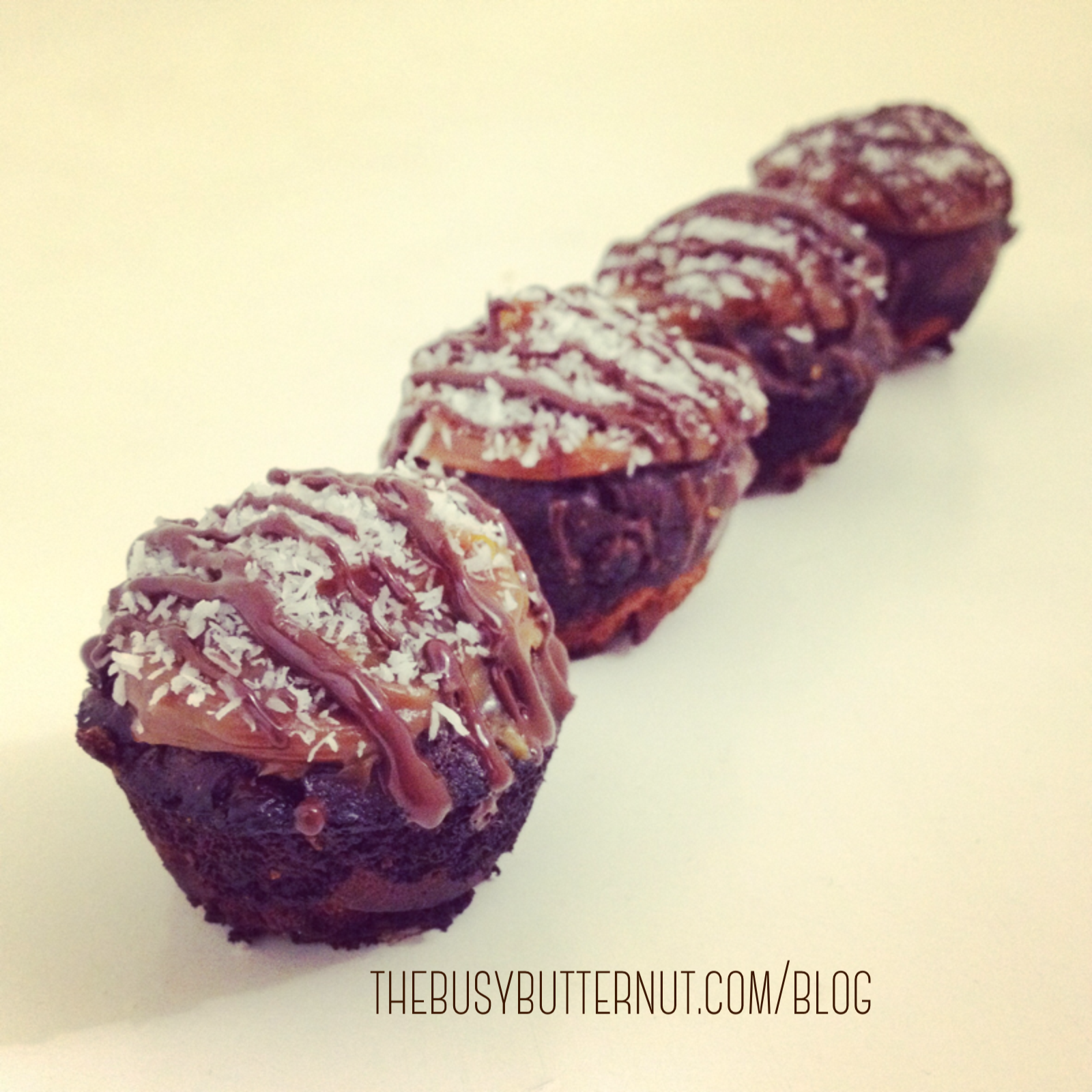 It's currently not girl scout cookie season but I am craving a samoa.  It's that caramel-y coconut-y goodness.  A coworker of mine is also gluten free and thus was born... the coconut caramel brownie cookie.  Also known as the "samoa brownie bite."
I picked up 5 ingredients at my local Whole Foods but any brands will work out just great.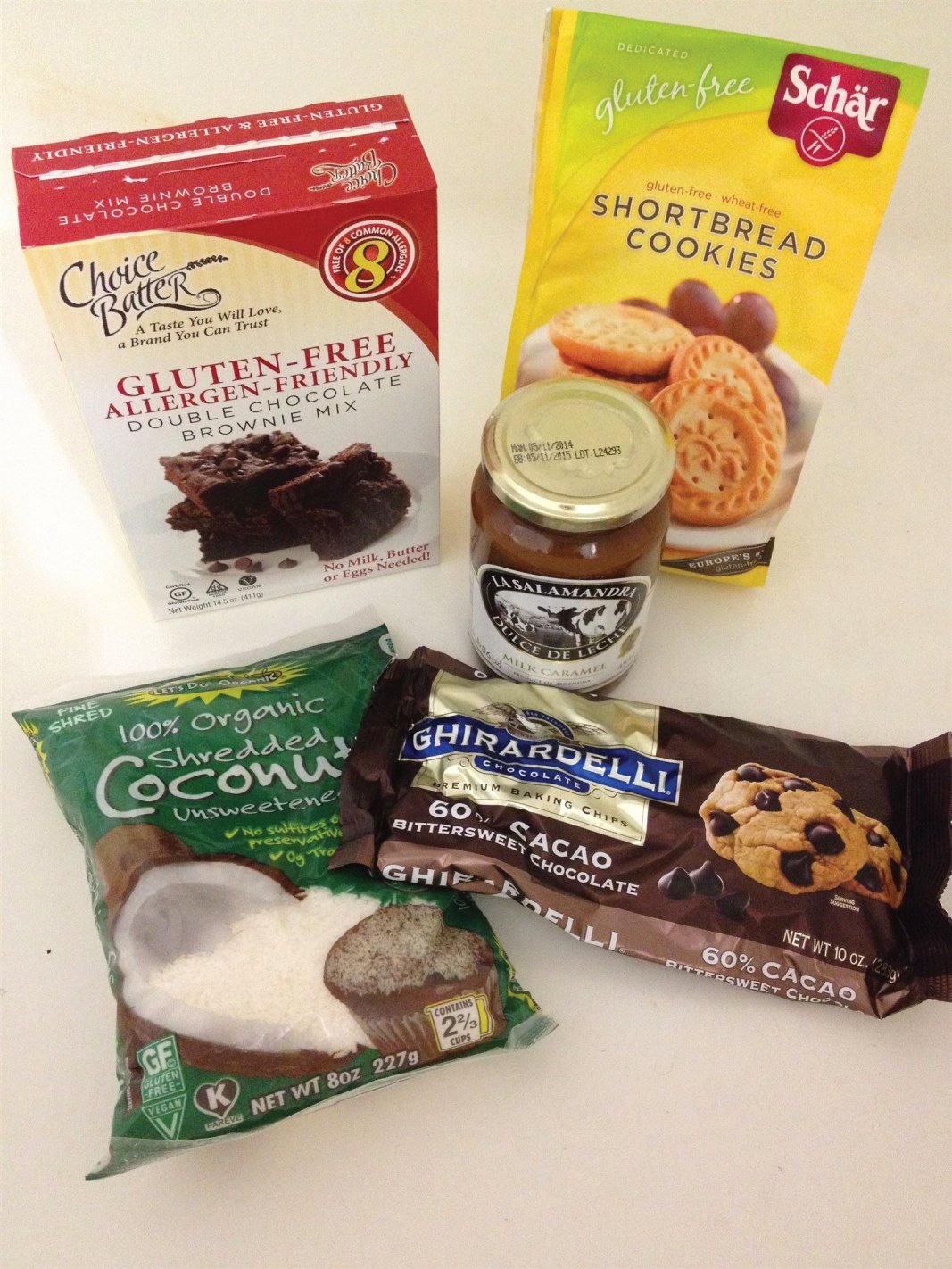 Ingredients:
  - Box of GF Brownie Mix
  - Any GF sugar or plain cookies
  - Jar of Caramel Sauce or a handful of 

    caramel candies
  - Shredded Coconut (they only had  

    unsweetened but sweetened would

    be delish too) 
  - Some chocolate chips for melting
(The brownie recipe does call for vegetable oil and I used pam baking spray so make sure you have those on hand too!  Or eggs if your brownie mix needs those but this particular one did not.)
Preheat your oven to 350.  In a large bowl, mix together brownie box according to the package instructions.  I added a handful of coconut to the mix to give it a little extra flavor.  
Give your mini muffin tins a quick non stick spray because seriously, washing out each of those little crevices is a big pain-ola. Crunch up your sugar cookies and fill the bottom of each tin with cookie bits.  Poor over your brownie mix and bake away!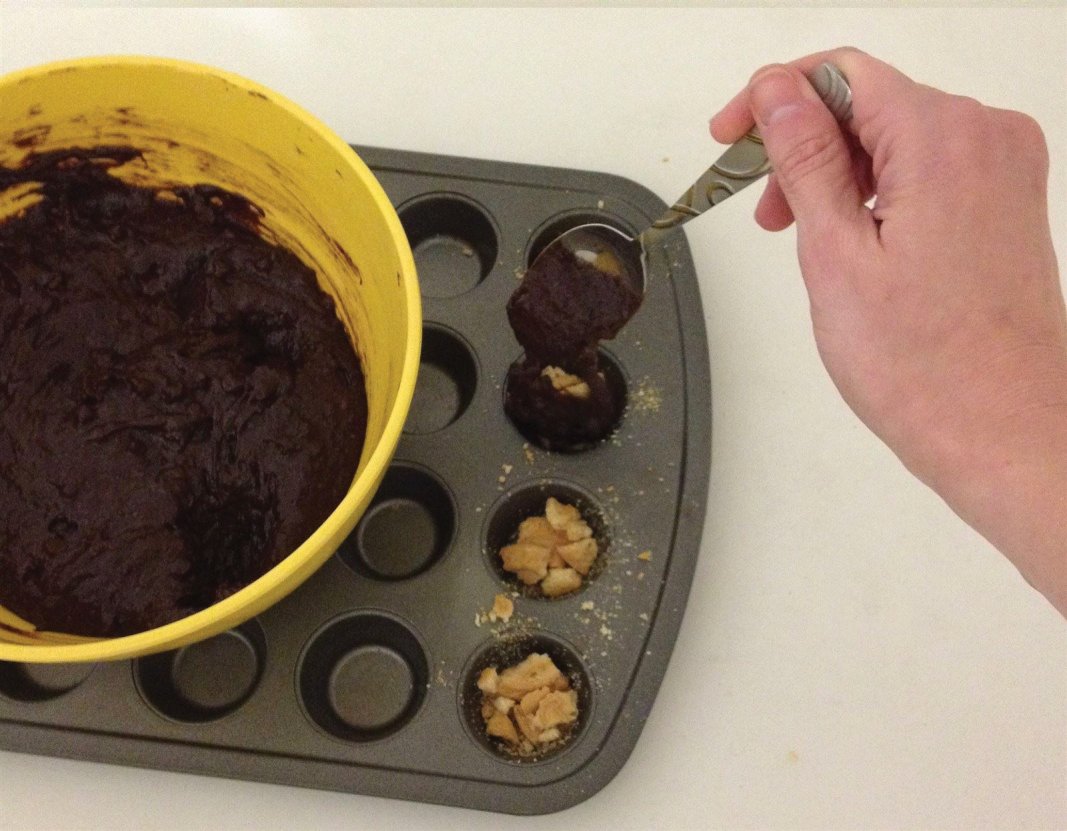 The brownie box calls for 25 - 30 minutes of baking at 350 and woah no!  Not with these little goobers of delight. They'll only take about 8-10. Once you pull them out, very important to let them cool!!  If you poor your caramel sauce over while it's hot, it will just melt all over the place and slip right off.  You want the caramel to be cold, brownies to be cold and then frost them with the caramel like you would a cupcake.  It should be a nice, thick layer of caramel frosting goodness. 
Sprinkle on a good handful of coconut and get your chocolate chips microwaving. You'll only need about a quarter cup of chips. If you're never melted chocolate in a microwave, it's a slow process, be patient.  Do not nuke it for a long time!  Start with 20 seconds at a time, stir, back in, 20 sec, stir, back in, 20 sec.  Once it's a beautiful melted smooth consistency, drizzle over each brownie bite for that signature samoa look.  They're ready to eat!
This method / recipe would also work for our non GFers.  Just grab a box of full gluten brownie mix and full gluten cookies.  :)

Mini Apple Pies
A coworker sent me this completely adorable, super simple, all edible apple pies and I had to test it out immediately!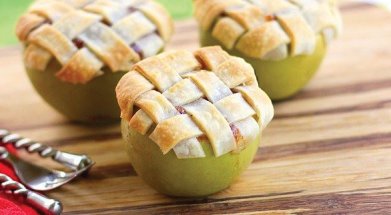 by The Girl Who Ate Everything

I added my own small spin and wanted to provide a few tips and tricks I learned along the way.  Only 4 Ingredients!
- Granny Smith Apples
- Can of Apple Pie Filling
- 2 Packets of Maple Brown Sugar Instant Oatmeal
- Refrigerated Pie Crust
(Cinnamon to taste)
Start by slicing the tops off of your apples.  The recipe mentioned gutting them with a knife and spoon and I started a few with that.  I am either not coordinated or not very strong but I switched to a melon baller and it seemed to go much quicker.  :)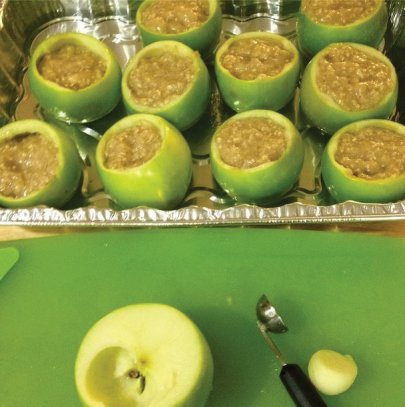 After scooping out the apples, mix together in a large bowl the can of apple pie filling, packets of oatmeal, sprinkle in some cinnamon and a half cup of hot water. 
Fill up the apples to the very top! 

Time to roll out the pie crust.  The lattice work is so cute but does take some time. The recipe calls for 30 minute of work using 4 apples but I had a whole bag and it took me about 2 hours. eeek!

I added a small amount of water to the pan (make sure it has high sides because the apples like to roll around), popped them in the oven for about 30 minutes.  Serve warm with a scoop of vanilla ice cream and oh my goodness, you have a great healthy fall dessert that makes the whole house smell delicious.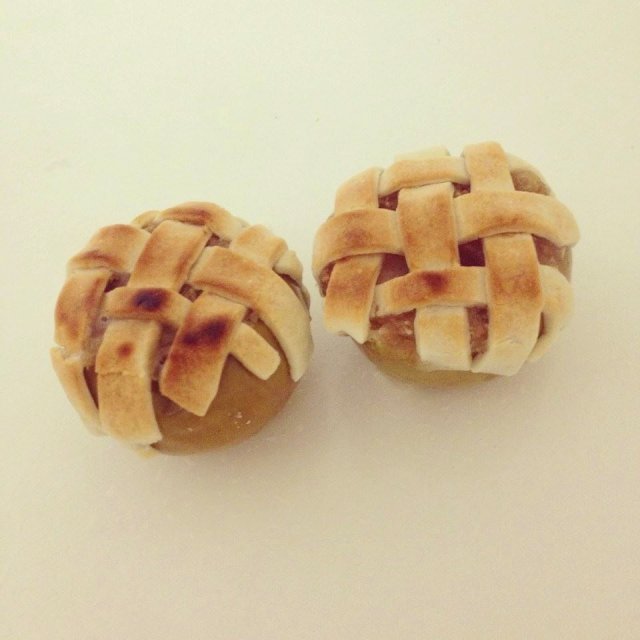 My end result! 

2 thumbs up for simplicity, inexpensive ingredients, and big adorableness factor.  
Carb and Gluten Free Stuffed Peppers and Dessert!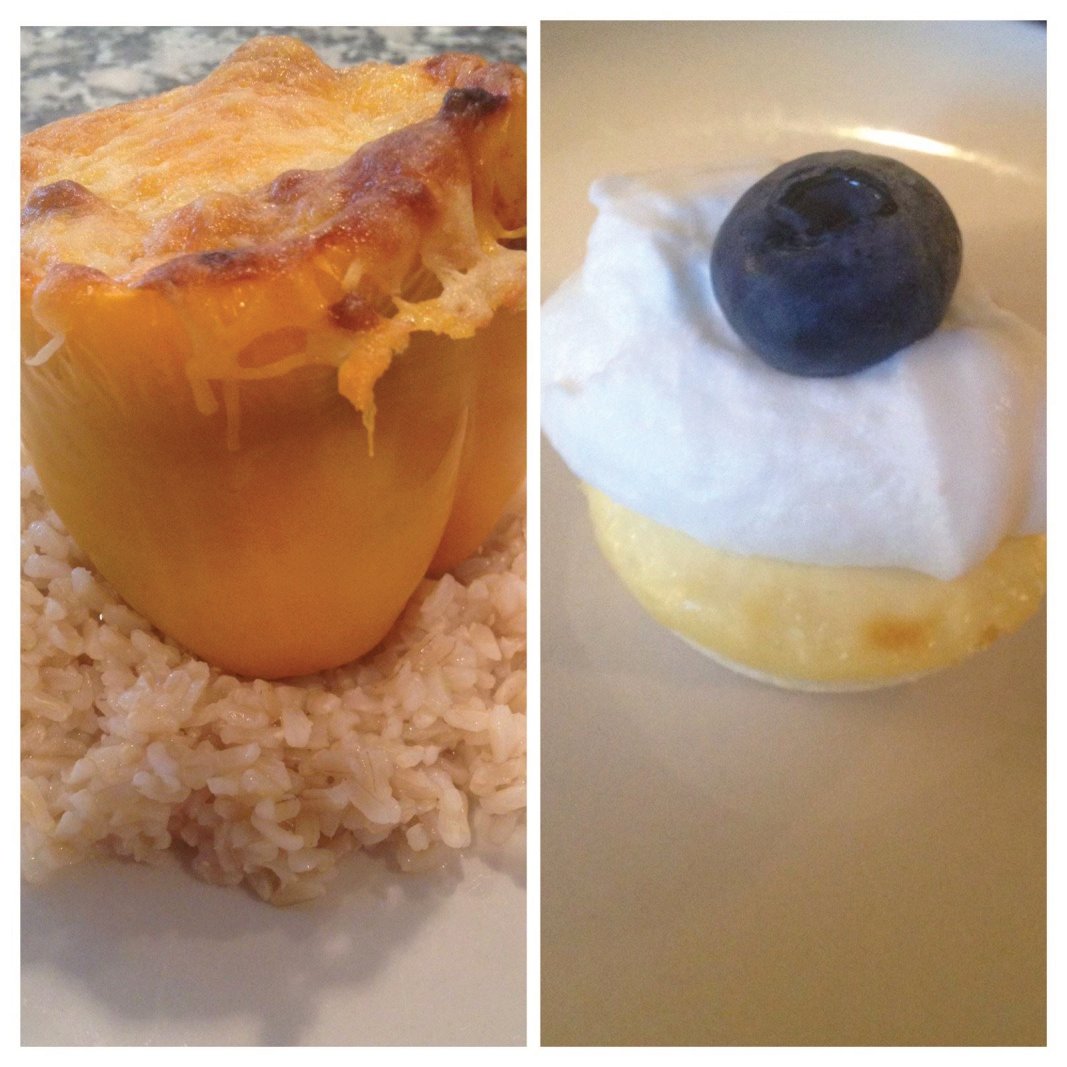 I spent a few days with my completely adorable nieces and they are both struggling with some tough food related issues.  One was diagnosed with celiac disease (GF) and the other Type 1 Juvenile Diabetes.    So making meals is always really tough, especially with two very busy working parents.  After much googling, here are two fun things I threw together with minimal time, money and ingredients that an 8 year old and 6 year old loved!!
Stuffed Pepper:
- 5 Bell Peppers
- Provolone Cheese Slices

- 1lb Ground Beef
- 1 Can of Manwich or Sloppy Joe Mix

(some have added or a lot of sugar and/or flour as a thickener, so please be careful to read the label!)

- Shredded cheese for the top
If you'd like to "hide" some more veggies in there, you can also add onion, carrots, celery, peas, corn, etc..Just cook them up in a little bit of the leftover ground beef drippings until tender.

In a large skillet, brown hamburger (and optional veggies) and drain. Add sloppy joe sauce and mix well.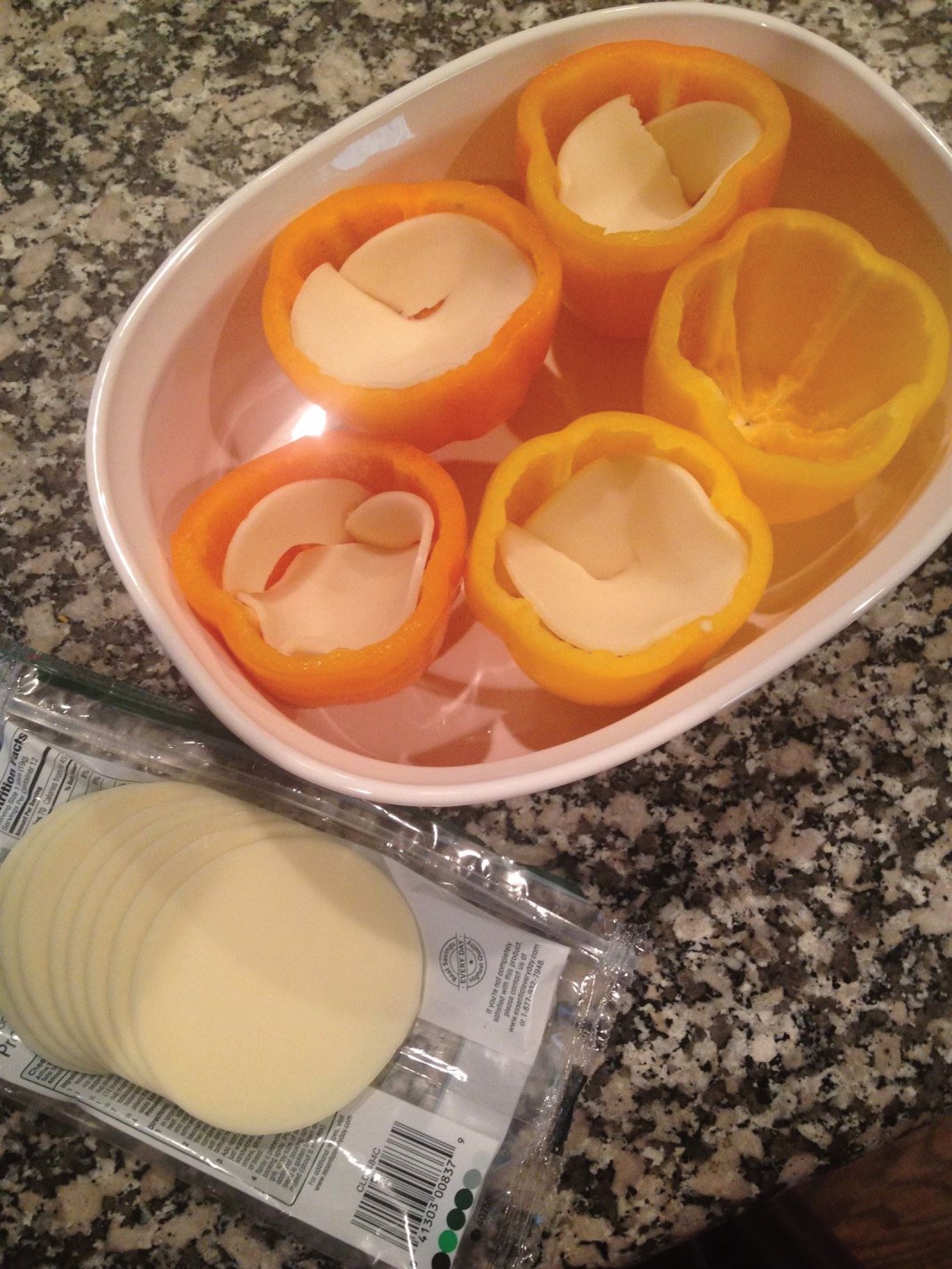 Slice off the top of each pepper and pull out the guts.  It's best to put peppers in a baking dish with high sides so they all stand up straight.
Line each pepper with a slice of the provolone cheese. 

Scoop a big spoonful of sloppy joe into each pepper and top with shredded cheese.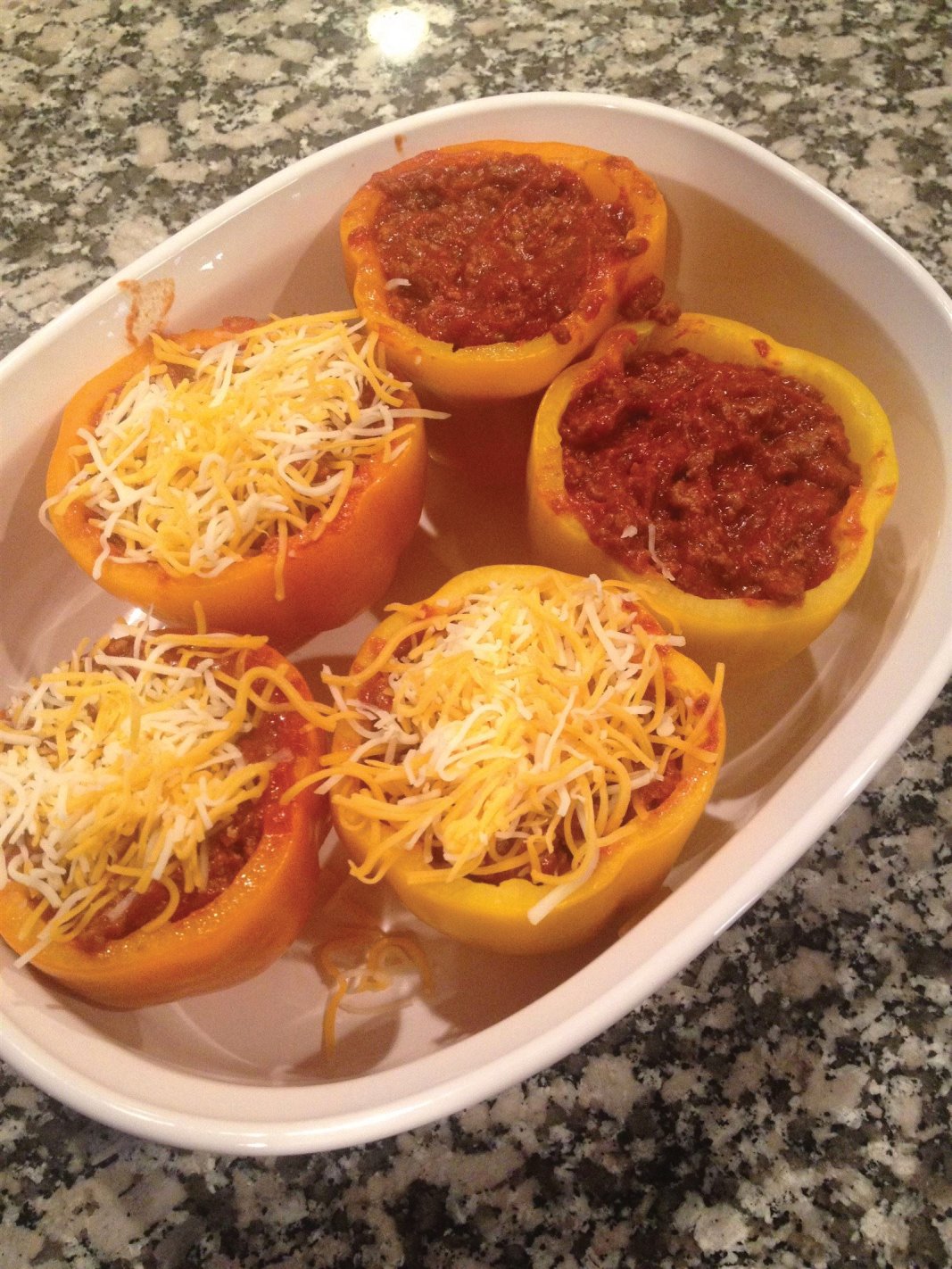 Because everything is already cooked,
you are really just baking to soften the peppers and create a cheesy brown crust on top.  I popped them in a 350 degree oven for about 20 minutes. 

Normally stuffed peppers also include rice in the filling.  Because I wanted to keep this carb free, I did omit that in the actual pepper but cooked up some brown minute rice on the side for others.

On to dessert!!
- 2 small tubs cream cheese
- 4 eggs
- 2 big lemons zested and squeezed
- 1/4 cup heavy cream

- Drop of Vanilla (does contain trace amount of natural sugar, omit if necessary)
- Heaping tablespoon of Splenda

Using a hand mixer, blend all of your ingredients together. Texture should be thick but pourable.  I used a mini muffin tin but you can use a baking dish as well.  With any cheesecake, it does like to be baked in water to keep moist.  Fill up a larger dish or baking pan with about an inch of water and place your cheesecake tray in the water.  You want it to be slightly submerged but not getting into or touching your delicious mixture.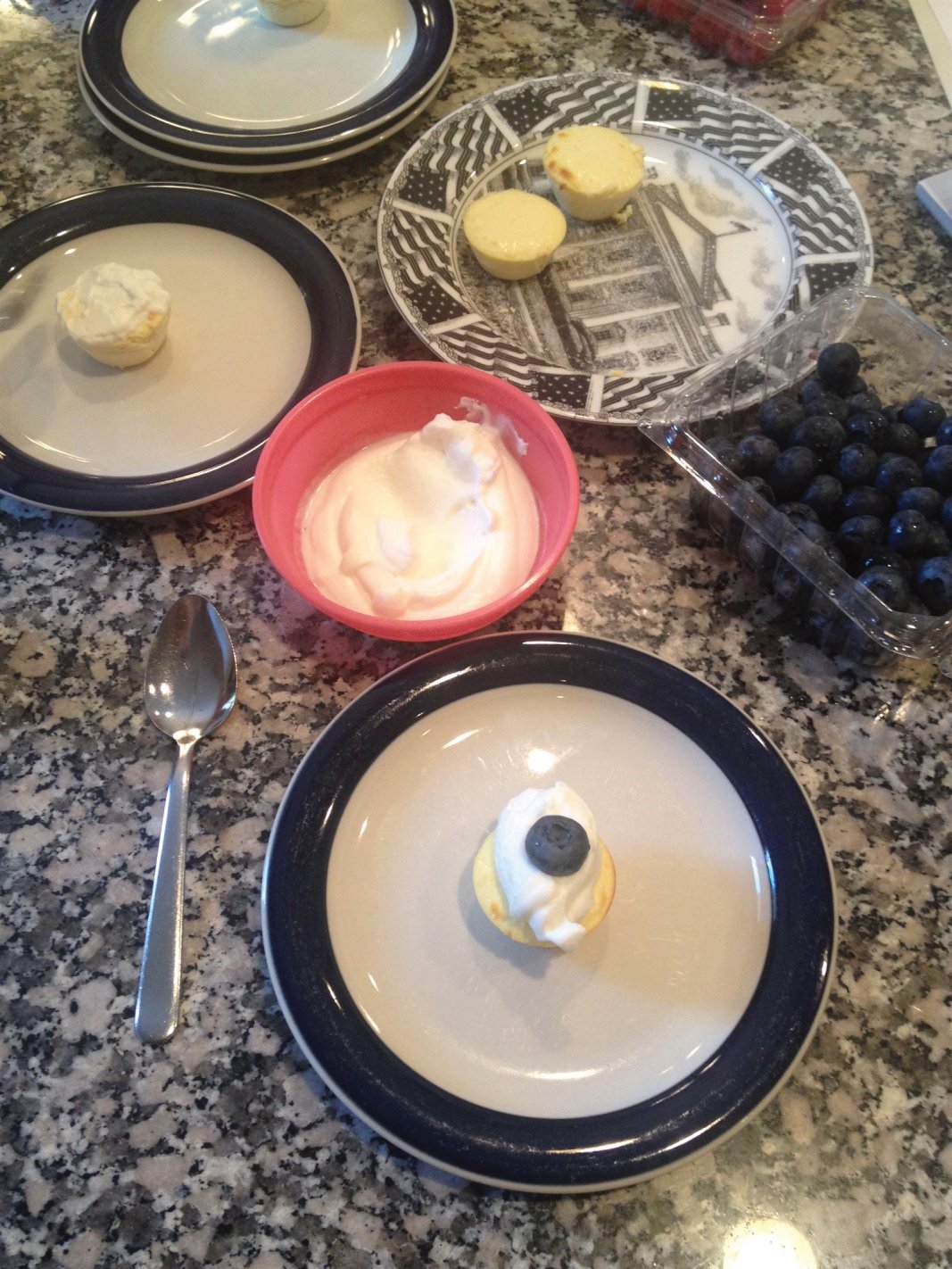 Baking times will vary depending on the size/shape of the dish but these little mini's only took about 15 minutes at 350.  Once you see the golden edges, they're set! Allow to cool before removing.  I had a few sticklers so slide a knife around each edge for them to pop out a little easier. 
I used the leftover heavy cream and some lemon juice to create a delish whipped cream topping. 

We made an assembly line with cheesecakes, whipped cream and a few fresh berries. 

Please remember to always read labels and confirm with your doctor when allergies are involved.  These two super simple, no hassle items were gobbled up by even the pickiest of eaters so I hope you enjoy!
Dark Chocolate Peanut Butter Fudge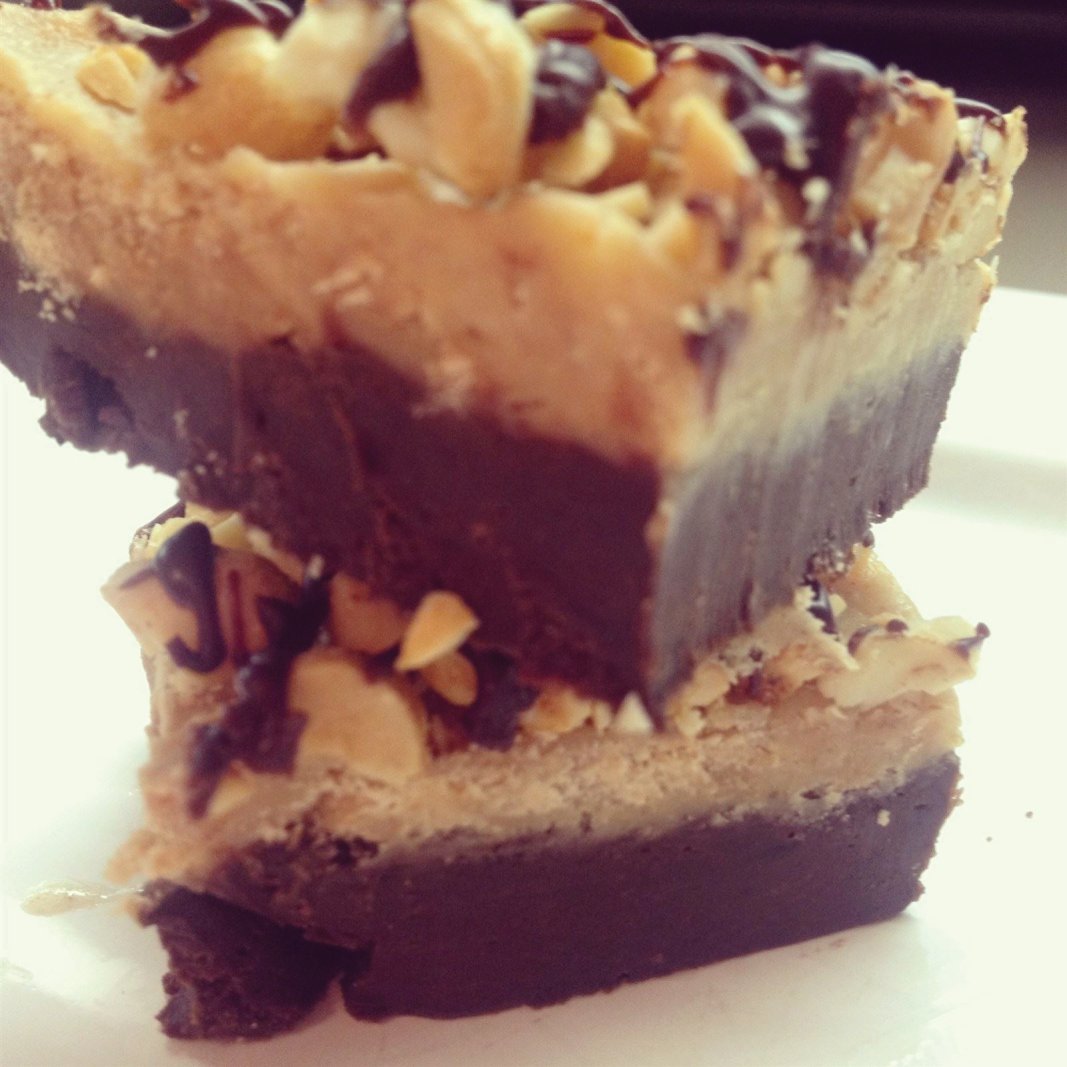 You'll need to purchase:
- Bag of Chocolate Chips (I used  

  the ghirardelli semi sweets)
- Bag of Peanut Butter Chips (I

  used Reese's Chips)
- Instant Coffee
- Dark Chocolate Powder

 (Hersey's makes a great one)
- Can of Sweetened Condensed

  Milk

- Peanuts
Follow recipe according to MyRecipes post above. 

I sprayed my cake pan with a good amount of Pam for Baking to ensure non-stick.  Make sure to allow time for the first chocolate layer to harden a bit in the fridge before plopping on the second peanut butter layer.  Fudge is a bit finicky so go slowly when microwaving.  Too much time and the chocolate will seize. I did add a touch of butter to both layers to thin it out a bit and make it easier to press into the pan.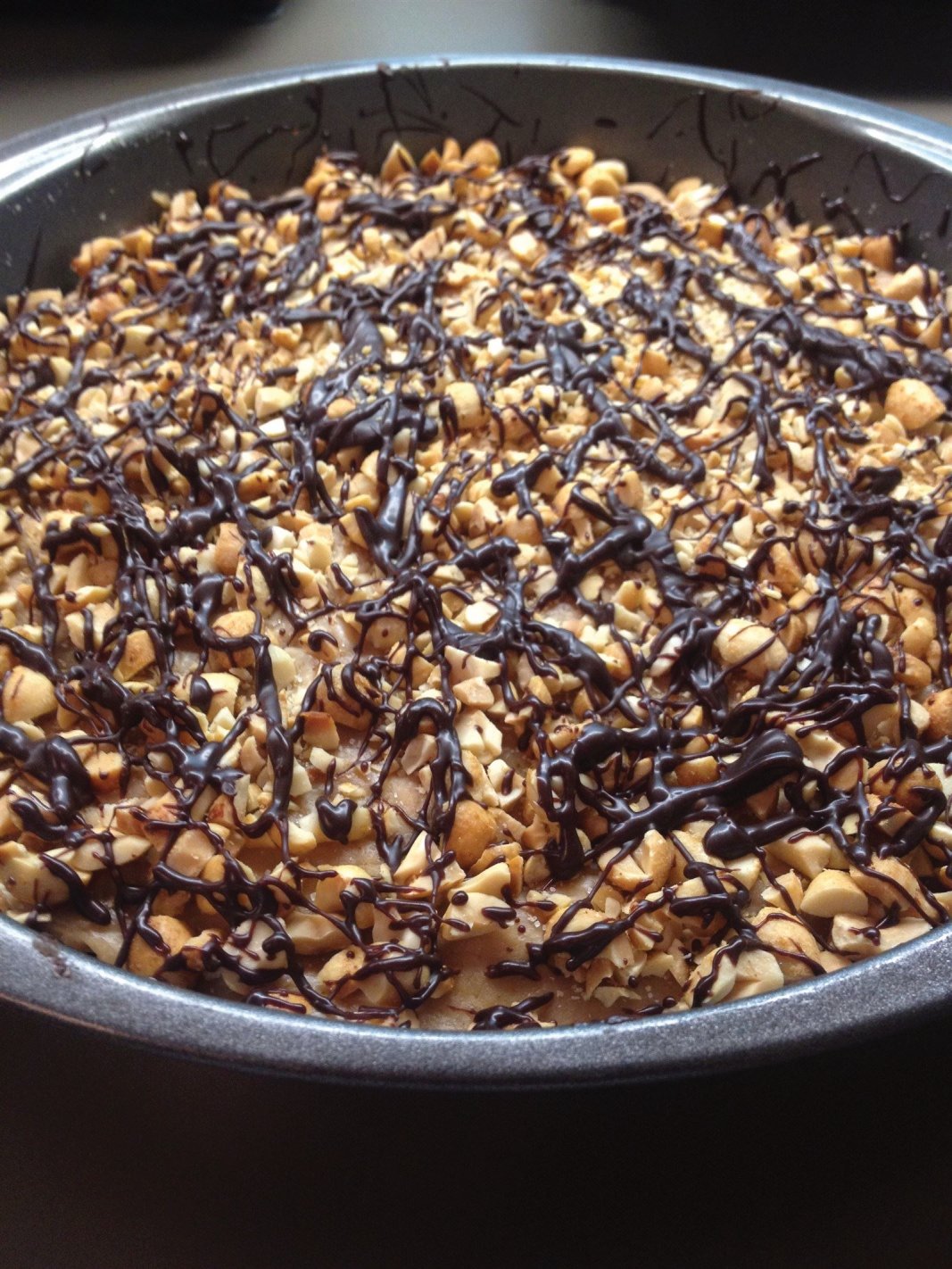 I also added a drizzle of some melted chocolate with heavy cream over the top.  Allow to harden for at least two hours and then use some muscle to cut into that deliciousness. 
Cinnamon Toast Crunch Oatmeal Cookie Bars

I'm on a "cooking with cereal" kick and this might be my most favorite thing I've put together.  3 ingredients, super fast, super easy and huge results!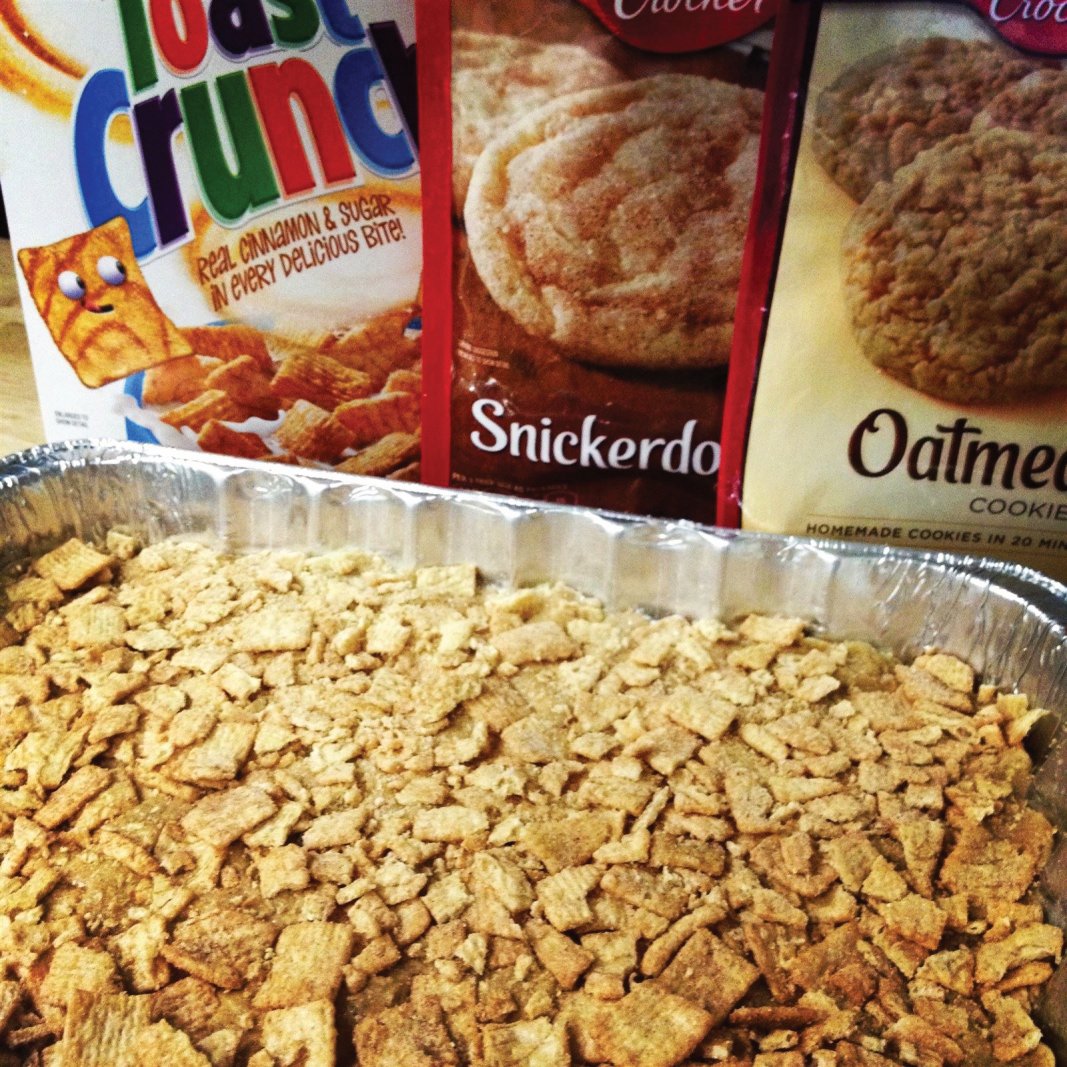 - Couple big handfuls of Cinnamon Toast Crunch Cereal
- Pkg Snickerdoodle Cookie Mix
- Pkg Oatmeal Cookie Mix
In a giant bowl, combine the 2 cookie mixes and their ingredients as labeled (butter, eggs, water).  Press evenly into baking dish.  Grab big handfuls of cereal, smoosh and press into the top.  Great for kids!  Baking does take longer due to the thickness of the cookies, about 40 min.  Best served warm and maybe with some vanilla ice cream.  Or with a delicious cup of coffee in the morning. It is cereal after all.  ;)

Reese's Treats
A play on the traditional Rice Crispy treats, these couldn't be easier or quicker with a delicious yum factor!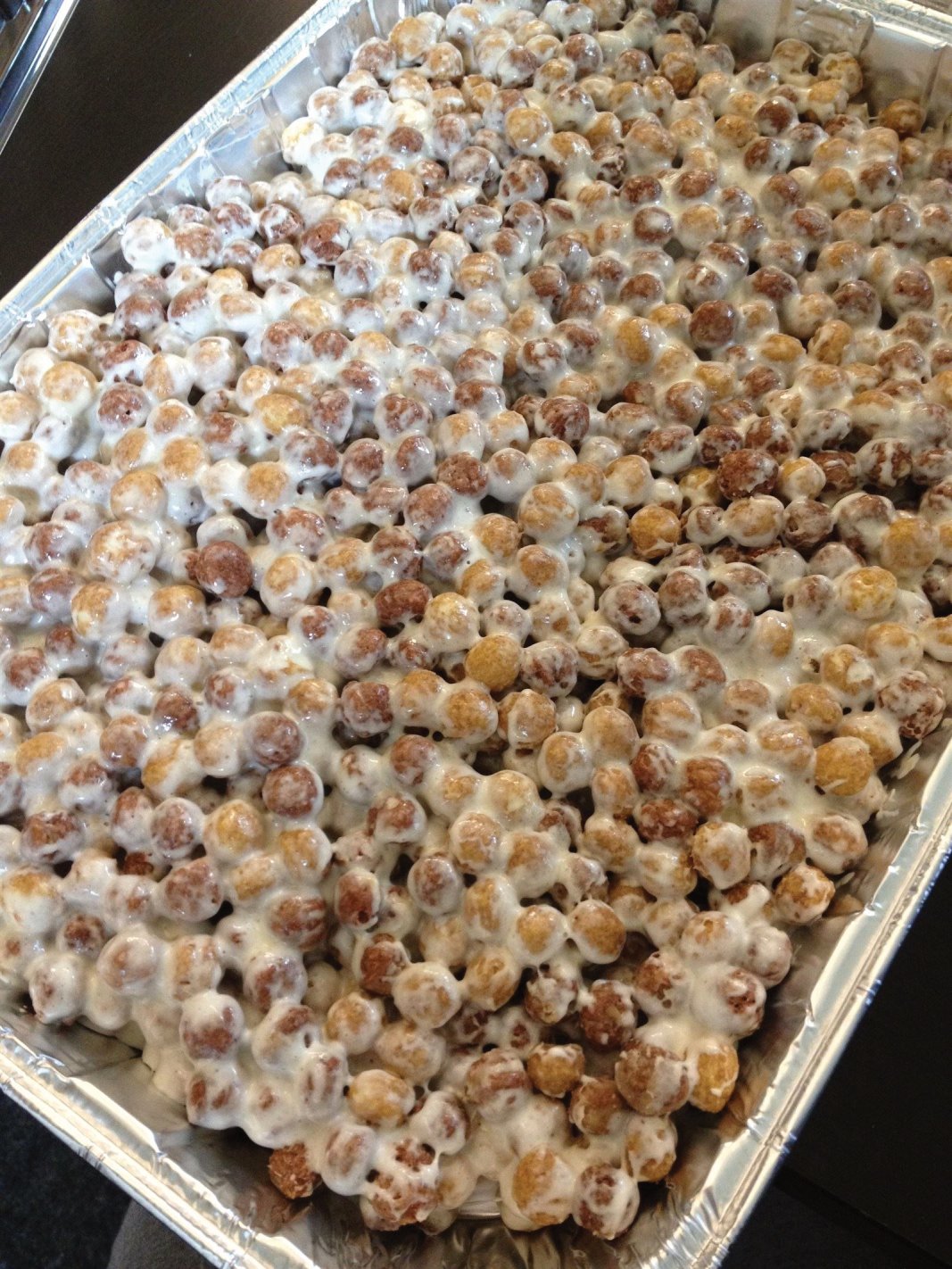 - Box of Reese's Puffs Cereal
- Half Bag Marshmallows

- Half Stick Butter
Microwave the mallows and butter together in a giant bowl for about 2 min until melted and sticky.  Pour in the whole box of cereal and stir to coat everything without making a giant mess.  Press into a glass dish or throw away tin.  I sprayed my hands with baking Pam to push it all down and into the corners.  Don't attempt without pam or butter on your hands, it's a disaster.  Trust me. Let them firm up at least an hour and then cut 'em up! 

I also found this AMAZING recipe I'm going to try next: 

http://www.tablespoon.com/recipes/reeses-puffs-brownies/4510be6b-79dc-4ed1-85a3-23421394b05f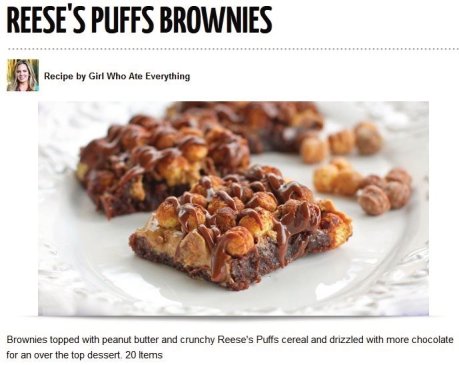 Eye of Sauron Cake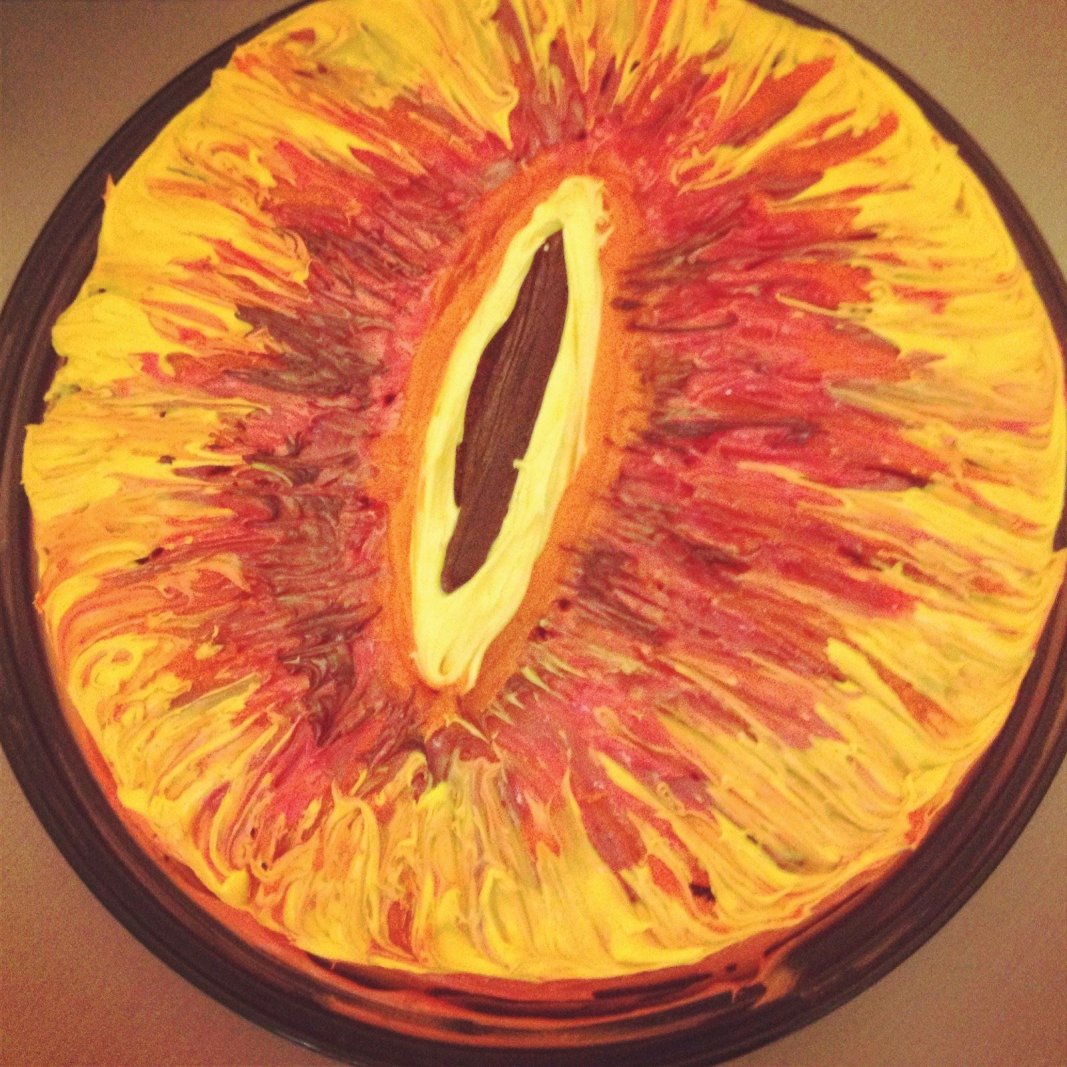 A coworker of mine challenged me - make an eye of sauron cake from Lord of the Rings - aaaaaaaand make it not look like lady parts. 
Well, I gave it my best shot but all I see is, well, lady parts.  :) If you're hosting an LOTR party though, this would be a huge hit!

Items Needed:
- 1 Box Chocolate Cake Mix
- 2 Jars of Buttercream or Cream Cheese Frosting (vanilla or white, just make sure it's light colored)
- Food Coloring! (I also bought a small tube of black icing)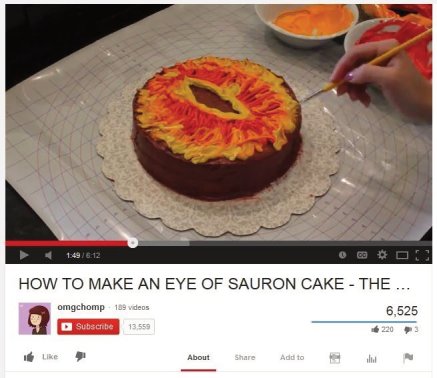 I followed this
great video tutorial
from The FilmBaker using the paint brush and all.  Viola!  It takes a little while but completely worth it and my coworkers reaction was priceless.
/